This weekend was FAST and FURIOUS.  Hands-down.
I'm been wondering when the fast and furiousness of weekends would eventually hit the McClelland family… and they have.  They've hit in full force.
Saturday began at 7AM… with the beginning of BASEBALL season!  The beginning of the beginning for us!
We ran around the house trying to find 1 missing baseball glove and 1 missing red hat.  We ran out of coffee, so Matt did a quick run to Dunkin' Donuts for some fill-ups.  And away we went!
By 9AM… we were ready and out the door to take some photos of the boys in baseball action…
*Wasn't that smart of us to give Ben the bat in the photo… 🙂
Off to the opening ceremony we went… my mother-in-law was in town visiting this past weekend, so she stayed back at the house with Henry, so we could take the time with our oldest 3.
And then… just what the boys were excited to hear (and me!) – PLAY BALL!
And one of the best parts of my day… telling Benjamin about 100 times not to climb the fence, yet every single time I turned around…
In all honesty… the best part of the day was seeing my sons begin a new adventure – BASEBALL!
My mother-in-law being in town was special because she got to see the boys play and kick-off the season…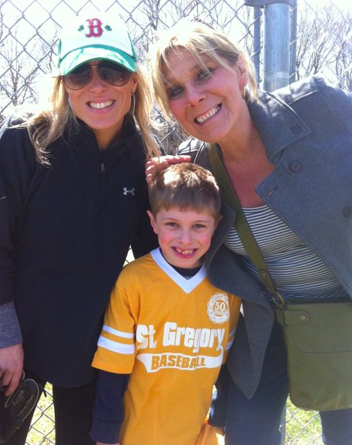 And over the next few weeks… our schedule is going to be C-R-A-Z-Y!  But I'm ready to PLAY BALL, COACH!