My travel lately has been a little crazy (to put it lightly). I've found myself getting pretty good at the whole airport thing. But literally, over the last 4 weeks I have found myself in:
1) New Orleans
2) Pittsburgh
3) Orlando
4) NYC
5) Palm Beach
Believe me, I'm not complaining… these are some pretty incredible destinations, I know… but it all comes down to (for me) what to wear (?), what to pack (?)!
I'm always asked by moms for the secret to packing lightly and efficiently, well… I finally have one!
Say hello to Chick On The Go!
We're talking an ENTIRE wardrobe packed compactly and (literally) right at your fingertips!
The idea for Chick on the Go began when the designer, Silvia Allegrini, was traveling overseas with her family to enjoy a well-deserved vacation. However, her LUGGAGE WAS DELAYED by the airlines. The struggle to purchase appropriate attire became time consuming, costly and anxiety producing. This experience became the inspiration for the creation of CHICK ON THE GO.
From the second I first heard about Chick On The Go, I was intrigued. Was it possible to have an entire wardrobe packed in something like this?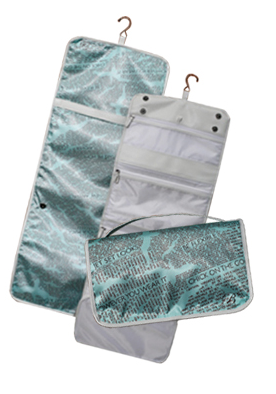 And fit all of this?
The answer? Yes. Yes. And YES!
This is truly fashion at its finest. There's nothing I love more than making clothing work over and over and over again, and creating multiple looks and styles from the same pieces. Chick On The Go is the icing on the cake for every single woman out there… let me give you a sneak peek at some (this isn't even all of them!) styles that can easily be created from the Chick On The Go clothing…
From the most basic…
Have a little fun with them…
For more FUN looks click HERE.
It's pretty incredible what 5 pieces of clothing and 2 accessories can create! I was just blown away by the sheer genius in Chick On The Go and the sheer NEED for it out there! I highly recommend any woman out there looking to make travel time easier and honestly (all in all) packing easier to check out Chick On The Go!
You will LOVE!