When I pressed the key to register for my first marathon, my heart both soared and skipped a beat, simultaneously.
I didn't really know if I could do it… run 26.2 miles, that is.
I knew I could run 13.1.  I knew I could train for an endurance event.  I knew I had the mind to compete.  I just didn't know if I had what it took physically to put all the New England winter training and long runs into those 26.2  miles.  But May 1st seemed a LONG, LONG way from January 11th… so I pressed the key with a trembling finger and thought, Why not try?!
And tried, I did.  I tried hard to stick to my Hal Higdon schedule... sidelined with the normal colds and bronchial winter things that crept in.  The antibiotics.  The care of my Mom.  My husband and kids and family and 9 grandchildren and all the basketball games, swim meets, school plays I wouldn't miss… and my friends and nights-out and an occasional weekend get-away with Barry.
But there was that commitment, that pressing the key to register for this thing that I never, ever in my life thought I could accomplish… that kept me putting on my running gear and getting out there.  And as the runs got longer and longer… I felt more and more confident.
I always, always had my family's support.  Barry would wait for me on our front porch, even on the coldest, darkest winter days.  I would text Jane (who has run 3 marathons), Audrey and Barry to let them know my route of the day.  The messages from my daughter-in-law Nik, who has run 2 marathons, always came with little inspirational tidbits.  The check-ins from Keith (2 marathons), Adam and Aimee… all runners with many miles among them.  My 86-year old Mom, pressing me on with her wish to have done something like this when she was younger. My grandchildren, always asking, "Grandma, did you run today?"
Yep.  I ran today.

And then the weeks and months had run along, too… and May 1st arrived.  I cannot say that I wasn't anxious about the marathon.  The entire week preceding it, my mind was flooded with fears of not finishing. Finishing last entered my mind more than once, but that didn't frighten me as much as not finishing what my mind and heart had enveloped.  Finishing was my one goal from Day One.
My longest run during training and my longest run ever in my life was my 20-mile run 3 weeks before the marathon. But it was those 6.2 other miles that crept in and wrapped themselves around my head.  I developed little strategies for the marathon… such as break the 26.2 into little segments in my head.  How about run 12, run 12, run 2.2.  Or run 10, 10, 6.2.  Or how about 13.1, 13.1. I cannot count the sleepless hours I counted out those miles in my head…

But none of that really mattered when I showed up in downtown Providence with my gear (oh, so much planning went into my gear because I need to be comfortable when I run… so I chose my beyond awesome 4all Tank Top), my hot-pink-hand-held Fuel Belt, and my new WrightSock Cool Mesh guaranteed no-blister socks that actually worked!  I didn't wear my watch, my Garmin or my iPod because I wanted my run to be about the journey.  And of course what really DID matter on that cool, May 1st morning was my heart…
I lined up with the thousands of other runners.  I thought about my journey to get there.  I knew I was setting out on the oldest and most historic race in the history of the world.  I waited for the start.  I moved my feet… one foot in front of the other… and off I went on the journey of my lifetime.
I wanted to remember everything about this race.  I wanted to FEEL it… the pavement, the people, the sounds, the air, the wind.  I wanted to smell the air, touch the breeze, HEAR the shouting crowds and cowbells and encouragement.  I wanted to SEE my husband and kids and grandkids… really see them and smile at them and high-5 them.  And every 5-or-6 miles of so, one of my grandkids jumped out of the crowd and ran with me for a few moments.  I could give a giant group wave-hug as I passed.  I WAS the experience as well as HAVING the experience.
And the miles ticked along.  I was feeling strong at miles 5, 7, then 10 and 12.  I was conquering the hills because I had trained on hills (not purposefully, mind you… I just happen to live in a hilly area!).  I ran with total strangers who shared beautiful stories of their many marathons… or of their first one, too.  One woman was running for her Dad, who was a marathoner, but now suffers with Parkinson's Disease.  For awhile, I ran behind the 50-Marathon Man, who has run a marathon in each state… times 3!   He told me to enjoy my 1st… because the first one is so special.
I was still feeling strong at miles 15, 17 and 19. The race course ran for miles along a former-railroad-track, now bike path, and occasionally there was a group of super-cheerers sitting in beach chairs… shouting all kinds of fun and encouraging things.  And there was one family who had a monstrous boom-box blaring the Theme from Rocky "Gonna Fly Now."  That was beyond awesome.
I'll always remember my granddaughter Taylor shouting Grandma at mile 2 and reaching out her hand to me.  I looked up and there she was, with Barry, Keith and Janie.  I'll always remember my daughter-in-law Nik at mile 3.  I saw a beautiful woman standing all by herself on a bridge… and then I saw her smile and hug me tight… and even as early as mile 3, Nicole made my race.  I will always remember Barry and Janie at the top of the first big hill, shouting from across the street.  Two people running next to me said that was the most awesome sight.
I will always remember Audrey and Matt with William, Alex, Ben and Henry at mile 11… my  little cheering section… and their little arms stretched so high for me. Then there was the Water Stop that my grandchildren Taylor and Andrew were helping run for their swim team.  I could see Andrew running toward me and my heart soared.  As I approached mile 14.5, I saw Adam, Aimee, Jake and Dylan.  Jake and Dylan come running with open arms.  Each grandchild smile was its own little miracle and made me so strong… and Adam and Aimee were beaming with pride.
Then I saw the 20-mile marker.  But it didn't frighten me at all.  My legs were getting slower, but I felt lots of energy.  Maybe it was training.  Maybe it was heart.  Maybe it was my family and all the runners around me.  Maybe it was the day… or everything combined. I felt the energy of the accomplishment and I ran on.
Along the last part of the bike-path, I heard Adam, Aimee and their boys cheering from the street… and they called that everyone would meet me Downtown.  At the Finish.  I knew then, at mile 23… I was going to finish what I had started back on January 11th.  What I had started somewhere… way back in my childhood… waiting, waiting for the perfect time…
At mile 24, I could see Barry, Janie, Brian and the puppies up on the hill before the bridge that would get me back to Providence.  They were waving and cheering… and with them was Barry's cousin Billy.  Those 4 smiles were all I needed.
I  headed back to downtown Providence where I had begun the marathon a few hours earlier.  The sun was shining, the breeze was cool along the harbor, my legs were still there… and I began to contemplate what I was about to finish.  This was a dream… an almost untouchable dream.  This was a dream of a child, a young woman from so, so long ago.  This was a 26.2-mile dream that took decades to fulfill.
As I rounded the last half-mile corner of my journey, I saw Barry again.  He was waving and cheering and telling me that everyone was gathered at the FINISH.  He began to run along the sidewalk.  I felt a rush of energy that carried me the last .2 miles around the last corner and up that little incline.  I saw the huge FINISH that I had stood under hours before… when my journey was still just a dream.  I heard my kids and grandkids.  I SAW them cheering and jumping.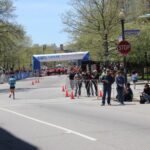 I had been dreaming, too, of a FINISH in 6 hours.  When I saw the final clock, there was a 5 in the hour spot.  I couldn't see the minutes.  I ran hard, thinking that maybe the minutes were in the 59 range and ready to change to 6.  That's when I said to myself, I'm gonna finish in the 5's! I do remember throwing my arms in the air as I crossed the FINISH.
The race was done.  I was a Marathoner.  I AM a Marathoner!
I did it. I did it. With the support, cheering, hugs, ringing cowbells of my wonderful, wonderful family and spectators all along the 26.2 mile course.  I did it.  I did it!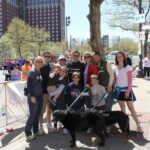 My heart both soared and skipped a beat as I realized I had run a Marathon, finishing in exactly 5 hours, 19 minutes. The first thing I did was call my Mom to give her all the race details… because I knew she was running along with me in spirit and great love the whole way!

Truly… a dream come true!