When I signed up for the Amica Providence 70.3 Ironman, I don't think I really, really ever thought the day would come to actually have to do it. The race was weeks away… well, months, really. I thought it would be such a challenge to add to my 57 things I wanted to do in 52 weeks of my 57th year. But what was I thinking? I had only started "running" about a year and a half earlier, and I remember the moment that whole thing had happened. I was standing on the sidelines of the CVS/Caremark 5K in downtown Providence, in September '08, while just about everyone in my family ran the race. I was talking to a woman who was standing next to me. I said something like I'd love to do a race some day… and she answered, "Well, why don't you?"
I went home that very night, put on an old, beat up pair of sneakers that Jane had left behind, opened my back door and ran about a half mile before I thought I was going to die. Die. Really. I've never been a runner. But something got inside me on that run on that night that said something like don't quit. I didn't. I continued to run each night, trying to go a bit further each time. My goal was to run a Halloween race, a 5K, that is sponsored by a local fire department… one in which costumes are worn and I knew my grandkids would be attending. I did run that Halloween race. I wore a costume… I was a pirate's wench. My daughter-in-law Nicole kindly ran the whole 5K with me to pace me, and my time was a high 37. I thought I was all that and a bag of candy. By the following summer, in July '09, I had signed up to race in a sprint triathlon in Falmouth, MA… stringing together a 1/4 mile swim, a 9 mile bike ride and a 5K. I had taught myself how to swim for endurance (I had the basic crawl stroke down from my childhood), and I had an old clunker of a bike that would do the trick. I completed that tri and had the time of my life.
This past winter, I added first a 5-mile run, then a 10K and then a Half Marathon to my repertoire. It was completing the Half Marathon in a 2:11 that got me all sparked up for the 70.3… well, that and the fact that my daughter Jane and son and daughter-in-law Keith & Nicole had all done the Providence 70.3 within the past 2 years and they were all doing it again in 2010. I thought it would be the thrill of a lifetime to race this challenging distance with them!
I do most of my training myself, based on my schedule from day to day… so I needed something that would spell out what to do, specifically, each day of the week for about 18 weeks. Barry did a rather extensive search and found, on-line, TRIATHLON GEEK's 18-week Self Coaching Training Calendar for the Half Ironman. He downloaded it and printed me a copy, and on March 8th I began my training… one day at a time.
18 weeks. 18 weeks of checking off each training day… and even the REST DAYS… with a bright fuchsia-colored marker, noting distances and times and strengths and challenges.
Time has an interesting way of ticking and tocking and passing. Moments, minutes, days, weeks, months. Then the day. The actual day. Early morning on that actual day settles in like an early morning fog.
I awoke at 3:30 am this past Sunday, the day of the Ironman, and immediately pulled back the bedroom curtain to peek outside. The previous day had been thunder stormy and unpredictable… and the weather people were calling for more of the same on Sunday. But I saw twinkling stars in that early morning sky and thought that maybe this would be a nice day after all. It smelled like it had rained, with the earthy aroma reaching up to that bedroom window, but the stars foretold of another kind of day, a beautiful day.
Within minutes of awakening, we were all in the car and headed to Narragansett where the 1.2 mile swim would take place and the bike ride would begin. Barry drove. Jane, Brian (who was not racing), our friend from NYC Mary Beth (also in the race) and I filled up the car with our bodies, our concerns, our visions for the day and even a few fears. The ride took a bit over a half hour and just when we were ready to take the turn off the major road and down to the beach, there began a huge traffic jam. What?! A bit after 4:30 am and a traffic jam?! No one was moving. Cars were deadlocked. People began piling out of cars and running toward the beach. There were so many things to do… load the drink bottles onto the bikes, fill the bike bento boxes with food for the 56 mile ride, arrange the shoes and socks and helmets and gloves, attach the time chip to my ankle, pull on the wetsuits and put on the caps and goggles and get in the proper "age group" wave for the swim. My wave was Wave #3, females 40 and over. I had to be ready and on the beach, in the shoot, well before 6:00 am. Jane's age-group Wave was going into the water at 6:25 and Mary Beth's Wave was going into the water at 6:45.
Barry suggested that we all get out and run, too… and that's when I panicked. 18 weeks of calm training, checking off each training swim or bike ride or run… sometimes running or swimming late at night or cycling early in the morning in order to accommodate every person and every responsibility in my life. 18 weeks of doing this thing, inching toward this dream, on my time and on my schedule. I had pictured getting my bike ready a zillion times. I had pictured Barry helping me with my wetsuit and giving me huge hugs to calm any nerves. I had pictured standing on the beautiful sand of that beautiful Rhode Island beach and digging my toes in while I assessed the water, the waves, the surf. Calm is what I had anticipated. Running with my bags to the beach is not anything how I had pictured this morning.
I burst into tears. I tried to stop them, but my heart was pounding along with my feet and my mind was racing a million miles an hour. Jane must have sensed something because she came running up behind me and her strong arms were around me and she was whispering in my ear, "I'll help you. Don't worry. Don't cry."
I am not a crier. I'm really not a crier. I'm known to be pretty strong in moments that require it. Jane's arms and her voice were like a miracle at that moment and as I wiped away the tears, my heart soared that this being was my daughter… my beautiful daughter who was going to help take care of this, and take care of me. And she did. Although Jane had lots of things to tend to for her own swim and bike ride, she was helping me… meticulously methodical and helpful, explaining everything that needed to be done. It was then that I knew I could do this. I told Jane to get over to her bike and get her things ready… and she did… with one eye on me. We were separated by hundreds of bikes, but each time I looked up, I saw Jane's face searching the hundreds of racers to check on me.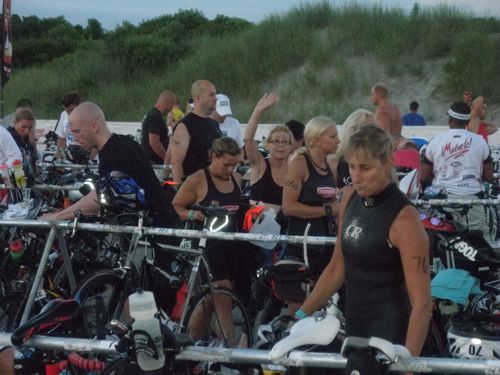 Then I spotted Barry. He had inched the car along to the parking lot, parked the car and run to the bike corral. It seems that the traffic jam was from shuttle buses letting off racers at the entrance to the parking lot… not a very good idea. But anyway. I ran to Jane, hugged her, and we said to each other, "See you at the FINISH!" I grabbed my wetsuit and cap and goggles and headed to the beach. Barry did help me. I did make it in time. I did have a little time to gaze at the water and think. I scanned the crowd for Keith and Nicole and our friends Jill, Megan, Tracey, Joe and Mary Beth… but there was a veritable sea of people. I knew I'd have to catch them at the end of the race.
As I stood there on the beach, all of a sudden Jane appeared again, like magic. This time she needed me. She asked if I could braid her hair so it would stay neatly inside her swim cap, then bike helmet. Again my heart soared with the beauty and wonder of my own child… all grown-up… who now needed me for this tiny little favor.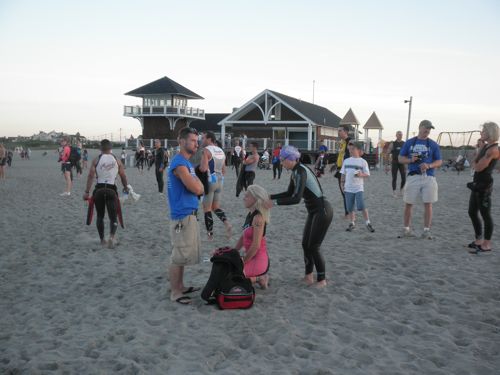 Now I was really ready to begin.
I walked into the shoot with all the other purple-capped women and knew this was it. This was the moment I had been planning for, training for, thinking about, worrying about, hoping for, WANTING. For 18 weeks. I had gone over the race a million times in my head. I had calculated the time I thought I would achieve. I figured I would do the 1.2 mile swim in 1 hour, the 56 mile bike ride in 4.5 hours, and the 13.1 mile run in 3 hours. That's a total of 8.5 hours. Last week I found out that a racer must finish the entire race in 8.5 hours to make it an official 70.3 Ironman time. If you don't finish in that time frame, your results are unofficial and will not be posted. I knew I just really wanted to finish the race… to enjoy this challenge and this journey… regardless of time or official-ness or posting… but to know that the 8.5 was possible made me want to do it. The 8.5 hours became my goal, and I knew I would have to give it all I had to accomplish it.
As I stood in my "wave" with all the other ladies 40 and over, I could hear the music blasting from the loud speakers. It was moving-to-the-groove kind of music. I could hear the announcer announcing the starts of the elite men and the elite women who went in Waves 1 and 2. I could hear my heart over all of this.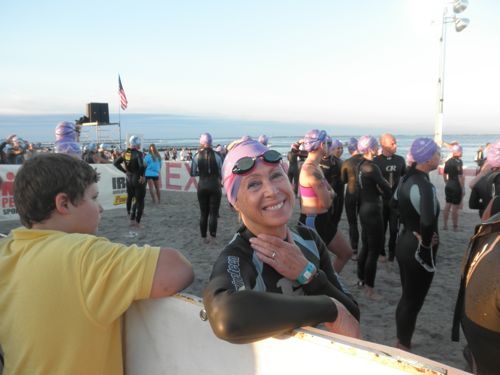 Then our gun went off and into the water we all went. The waves from the ocean water crested over us and we fought our way to the calmer water beyond. I began swimming and immediately felt calm and wonderful and peaceful. The early sun was dancing over us and warming the water. I could actually see the green of the seaweed and the golden browns of the water. I felt alive and exhilarated. I looked up from my crawl stroke to see just exactly how far this 1/2 mile was before I could turn around and head the half mile back. The yellow buoys danced on the water for as far as I could see. But I felt at ease. Ready. Happy. My arms felt great and my body was gliding smoothly. I thought of all the days I watched the sun come up from the inside pool window of our local YMCA. I thought a lot about my Dad, who had spent a good part of 20 years on the water… in the Navy. I asked my Dad to stay with me during that swim. And he did. I felt the sun was all my angels there to protect me. It was a perfect swim. I didn't know if I was swimming fast or slow… I just enjoyed every second of it.
When I could again hear the music blasting from the loud speakers, I knew the beach must be near. There were swimmers all around me… in all different colored caps. Purple, blue, white, orange. I knew this would happen because the later Waves are faster swimmers and they would catch up and pass me. When I felt I could stand up, I did. My feet felt great in the wet sand. Then, from behind, a giant wave crested over me and threw me a few feet forward. I managed to keep my balance and I stood straight up. At that moment, I heard the sweetest sound and the sweetest word in the universe. "MOM?!" I looked to my left and there was Jane! Although she started 20 minutes after me, we exited the water at exactly the same time. There was something so serendipitously wonderful about that moment that would carry me the rest of the day. I will never forget that "MOM!?" and that embrace and that run to the bikes together, passing the ever-smiling Barry and our dear, dear friends David and Brenda… great blessings added on that beautiful morning.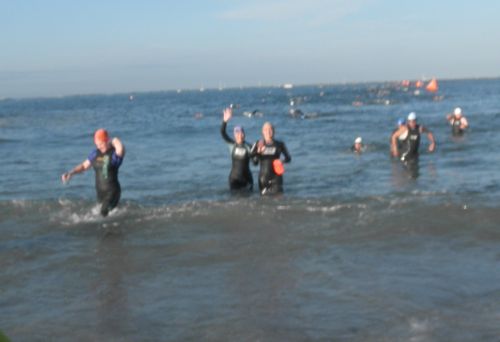 The next step was off-with-the wetsuits. This is not an easy thing. No. No way. Not at all. But yesterday there were wetsuit strippers waiting for the racers as we entered the bike corral shoot. "Do you need help with your wetsuit?" these people were calling.
"YES!" I called.
"Lay down. On your back. Legs straight. Grab our ankles," one young guy said to me all in one breath.
I did. And those two young guys had my wetsuit off faster than… well, you can fill in any blanks here. Here was another miracle on that beach! With wetsuit in hand, I ran to my bike. This is what is called the first transition… getting ready to ride the bike. I knew I didn't want to forget anything, so I sat down, opened the bag that I had left on my bike earlier and slowly washed my feet of sand, put on my socks and shoes, re-tied my hair back, buckled my helmet, put on my gloves and sunglasses, ate a PowerBar, drank some Gatorade, put my wetsuit and cap and goggles in the now empty bag and grabbed my bike. (Volunteers gather up all the bags, put them on a bus and drive the hundreds and hundred of numbered bags to Providence, where they are stored 'til after the race.)
Then I was on my way. I knew the first 20 miles or so were rolling hills and flat because Barry and I had driven the route by car a week earlier. I looked at my watch for the first time. It was 7:12 am and I was already on the bike. The sun was still dancing, still a bit low… and all was well with the world. I knew I needed to cycle at least 15 mph in order to keep alive my 4.5 hour bike goal of reaching Providence. I immediately found that the wind was blowing toward me, but I just kept pedaling faster. There were so many friendly volunteers and police officers along the route, pointing at cones and arrows to ensure racers were going the right way… and so many of them called, "ENJOY. HAVE FUN!" And that's just what I did. At some point along those first 20 miles I actually stopped looking at my little teeny bike computer that told me about mph and distance and all that and just ENJOYED the glorious scenic route. Cyclists began to pass me in droves… all those strong young people whose Waves were after mine and who were now on their bikes. I didn't care on single bit. It was just a beautiful day for a bike ride. Many of the cyclists who passed said things like "good pace" or "nice climb" as I headed up some hills… and that's when I really, really felt like a triathlete. All the tentativeness was wiped away by their kindnesses. Maybe because some of them saw the big, black magic-marker 57 on the back of my right leg! Yes, before you begin the morning swim, "markers" mark your age in big black numbers on your back leg. I passed many moments on that bike ride looking at the ages of the people in front of me or the people who passed me. It doesn't feel so bad when a 24-year old guy or gal whizzes past like lightning. Know what I mean!? But if you see an 80 on someone's leg (yes, there was!), it builds just a bit of inner fire to get your feet moving! I wondered where Keith and Nicole, Megan, Jill, Tracey, Joe and Mary Beth were. I knew Jane had headed out way before me… and then someone came up beside me and said, "How're you doing?!" It was Keith. He was looking fast and good and strong. We talked for a minute and I told him to GO! I wanted him to get to Providence fast and reach his own goals and achieve his dreams. As he passed me I could see the big black number on his leg. Yep. He was cruising and he looked awesome.
A few moments after that, I was cruising along and saw a couple of joggers on the opposite side of the street.  Hmmmm,  I thought, they look familiar.   And rightly so because it was Kristi and Curt… and I yelled out KRISTI as I passed and heard her screaming back GO! GO! It was such an unexpected moment of joy!
I knew from our little drive of the route that miles 20 – 40 or so were going to be BRUTAL. Hills and plenty of them. Hills one after another. HILLS. Did I mention HILLS? I tried not to panic about them. I tried to remember that I live in a very HILLY town and I had practiced on hills because I had no other choice.  In and out of my home are hills. When I was nearing the 20 mile mark, and a bit of HILL trepidation was beginning to set in… I heard clackers and cow bells as I rode up one of the first of the hills. There on the sidewalk were Barry, Audrey and Matt and all their kids and Adam and Aimee and all their kids. 7 grandkids with clackers and cow bells. They saw me (who couldn't see me on my lime green bike?) and cheered beyond anything I could have imagined. They were all smiling and waving and calling. The kids were shouting, "GO GRANDMA! GO GRANDMA!" It was a dazzling sight. A sight that made all the fear of those hills just (almost!) disappear.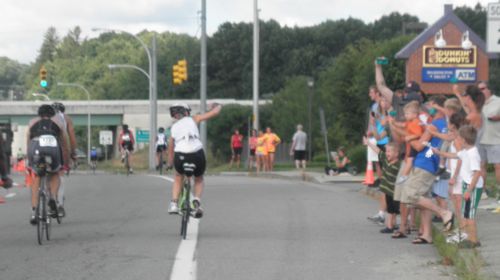 A guy on the bike beside me said, "Is that your family?"
I answered, "Yes.  Some of them.  The others are in the race or waiting in Providence!"
He smiled and said, "THAT IS AWESOME!"  And you know what?  Yes, it is.
Well, those hills came.  I conquered.  Every single one of those dreaded hills became my victims rather that the other way around.  Don't get me wrong.  I didn't sail up those suckers.  Most of the hills had me slowed to 8 mph… but then the reprieve of the downhill on the other side had me flying at 28 mph at some points.  Now that was incredible.  (Of course some of the young'ens must have been going 40 or more mph.  I'm still a novice enough to keep my hand carefully on my brake at all times downhill!)  It was on this stretch of road that Megan and Mary Beth flew past me.  They looked incredible. I guess it's a good time to say here that I may have been the only one of 1,200 or so racers who wasn't wearing clip-on shoes. I had tried them several weeks ago and took so many nasty falls that I became terrified of my bike. It was not a good situation. I adamantly told everyone in my family that I would not race if I had to wear clip-ons, no matter what anyone had to say about efficiency and speed and comfort. So here I was maneuvering those hills in pink and white running shoes…
I knew that once those hills were gone, the route was rolling hills again… steeper than the first 20, but manageable.  That route was when the sun began to really make its appearance.  High and hot.  But I also knew that Barry and the kids and the grandkids would most likely be stationed at the top of the last hill on that road, which is close to where we live.  I pedaled along… enjoying the shade when it was generous enough to show up.  I was still in a pack of people, but most were kind of in their own little grooves with not much passing.  No checking legs for ages/entertainment for awhile. Then I felt the familiarity of where I was and I spotted Barry's bright red t-shirt at the bottom of the last hill. I waved so he could see me. He waved and jumped and shouted to me as he snapped photographs. He gave me the inspiration to sail up that hill… and at the top were Audrey and Matt and Adam and Aimee with their 7 combined kids. Clacking and ringing bells and calling, "GO GRANDMA! GO GRANDMA!" If smiles could talk, my smile would be talking forever.  As I passed the police officer guiding us to the left at that intersection, he yelled, "You're the biggest celebrity of the day!"
I called back, "How lucky am I?" and headed the last 15 miles or so toward Providence feeling strong and loved and inspired by my wonderful family.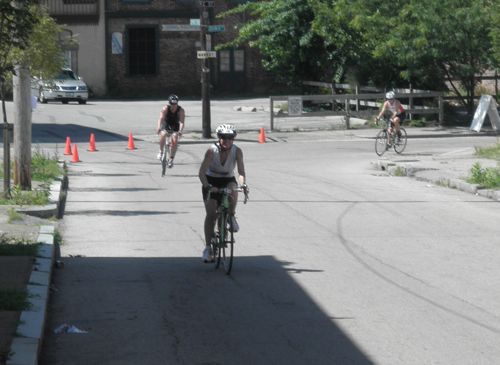 I thought about all the well wishes and love I had received… from my Mom, my kids and in-law kids, relatives, friends like Connie, Bernadette, Nancy, Rhonda and Rhonda (yes, 2 Rhondas), Cassie, Kristi, Krista, Kelly and the guys from the Ramble, Billy & Linda, Donna & Ronny and Bill & Renette and so many others.  The texts and messages and emails and phone calls of encouragement.  Everyone who knew the journey wasn't an easy one, but everyone who was behind me all the way.  I will take a moment here to say that my Mom has been beyond encouraging, proud and full of love. She is the one who wanted to know every inch of my training and every step I was taking. She has the heart and soul of an athlete and feels the excitement of a challenge. If my 85-year old Mom could physically handle an Ironman, she would be first in line to try. This gives me a great spirit of adventure to honor her with. Barry and I knew my Mom could not stand on a sidewalk in the hot sun or stand downtown in a huge crowd for hours at a time… and run around from point to point… so we took her on the route in the car with us last week so she could get a feel for the race. We took her to Narragansett on Saturday to drop off my bike and then to downtown Providence to drop off my run bag. She saw and sensed the excitement of the whole thing… and then during the race Barry called her with updates and I called immediately after my finish. She wanted every single detail! And Barry… I cannot begin to express what he meant to my training… from learning how to swim and biking with me to spotting me when I did open swims alone, to waiting for me on our front steps with a beer when I went on long runs… from shopping for gear and nutritional stuff to reading everything about triathlons. His smiles and encouragement and can-do attitude. His LOVE, his incredible love and pride in me and our children.  His presence… so big and full and steady. My one big dream in life is to get Barry to finish a sprint triathlon… with me standing on shore and on a sidewalk with my camera and waiting at the finish line. I hope this becomes a reality. I hope, hope, hope.
So back to the race. I felt that the last 15 miles to Providence flew by. Well, except for that G-I-A-N-T hill somewhere in Cranston or Scituate or Hell that sprung up out of nowhere to taunt and humiliate me. I had seen this hill from the car and been intimidated, and Nicole had warned me about it… but the warnings were insignificant to the reality of it. I was pedaling 5 mph when I decided to spare my knees and walk the sucker. I walked it at 3.8 mph. When I reached the summit, like heaven, there was an aid station with ice cold water, awesome volunteers and a hose if one wanted to be hosed down. I wanted to be hosed down! After that little reprieve, I felt I could conquer anything. I sailed into Providence, into the bike/run transition. (Well, first I had to conquer that one more "little" monster of a hill next the the parking garage of the Providence Place Mall… but with people lined up on the sidelines cheering everyone ON and UP that hill, all went well.)
It felt incredible to have both the swim and the bike behind me. I checked my watch and realized that I had done the bike in under 4 hours. I was thrilled. Did I say thrilled? I was thrilled…
As I sat down to transition from bike to run… opening my run bag and taking off my bike gear… I felt the intense heat of the HOT afternoon sun. It seemed relentless in that open bike corral and I hoped for some shade on the run. I stood up and wondered where my legs were. I had done the brick workouts and had felt pretty good.  I knew my legs would feel different after swimming and riding a bike for 4 hours, but this was… well, disconcerting.  But I made myself put one foot in front of the other and began to run to the run departure.  I felt like Frankenstein, but at least I was making forward motions.  I ran down the first hill near the State House and saw Jane coming back from her first 6 miles.  She looked awesome and that gave me a lot of confidence.  I ran all the way down Memorial Boulevard to Water Street to Power Street.  I looked up Power Street and thought no way.  I know I can do hills because as I said before, I live on hills.  I run hills every time I run.  But I was going to defeat this hill by walking it.  I saw dozens of people walking it, so I didn't feel badly about it.  (Well, maybe a little.)  But the volunteers on that hill were the best, shouting all kinds of supporting things to make us all feel wonderful.  One  volunteer had the most gorgeous gladiator high wedge shoes on and I told her how awesome they were.  Truth be told… I couldn't wait to shed my running shoes and get myself a pair of those sexy little things.  All in good time.  I hadn't even run one mile yet.
I began to run again when I reached the crest of that hill and as I rounded the corner to Brook Street I spotted Barry's red shirt and my heart raced with joy.  Across the street from Barry were Audrey and Matt and their 4 boys, William, Alexander, Benjamin and Henry… all cheering, "GO GRANDMA!"  They made me want to run faster so I could hug them all sooner!  I ran some more.  I walked some more.  I passed Nicole, Megan, Tracey, Jill and Mary Beth coming back on their first loops and we stopped for great big hugs.  It was wonderful to see them and to see them all still smiling.  Some of the run remains a blur to me.  I know I was HOT.  My right ankle was beginning to hurt where it had never hurt before.  I know I was getting dehydrated.  I couldn't wait for the next water station.  Each station was manned with wonderful people who handed us ice cold water or Gatorade or bananas and oranges.  There were ice cold sponges all ready to grab and we were even asked if we wanted water poured on our bodies.  I took the pouring-water-on-body-thing every single time.  Then I ran on.  Jane passed me on her second loop as I was on my first… and I knew she was getting ready to finish.  I was so proud of her.  So proud.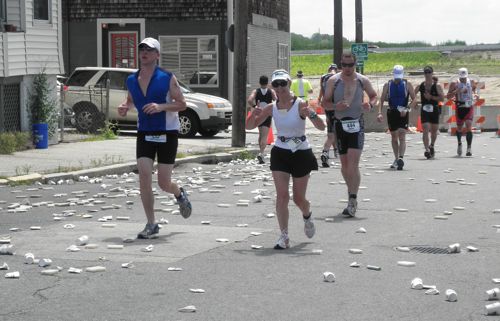 When I hit my mile 5 or so, I felt a tap on my shoulder.  It was Keith.  He looked strong and I was SO happy to know that he was on HIS mile 12.  One more mile to go and he was done with his 70.3.  I watched him run away and my throat choked with pride.  I continued running my first loop… until I was running up the hill toward the State House.  That's when I heard my name… "Sharon.  SHARON!"  It was Lorie & Rob, very good friends of ours, with their 2 beautiful children.  I felt an immediate strength as they smiled and waved and shouted all good things.  I was almost at mile 6.5.  That's when I heard that wonderful word GRANDMA… and as I made the loop, there were Taylor and Andrew with our good friend Beth… watching their mom and dad and Janie and me and all the friends.  And right next to them were Adam & Aimee and Maddie, Jake and Dylan… cheering wildly and smiling and their faces filled with joy.  This made me know that I could do one more loop.  One more 6.5 mile string of steps.
Those last 6.5 miles were not easy miles.  I've run 6.5 miles and loved every minute of it.  Those miles were identical to the previous ones.  Hard.  Hot.  My beam of light was seeing Barry again.  He just appears exactly when I need him.  He is awesome like that.  But one footstep at a time does make miles.  Another beam of humor was when I passed a lady with a sign for her runner and she said to me, "Aren't you Grandma?  I saw your grandchildren on Brook Street when you passed!"
I started to laugh.  She laughed.  Then the runner a bit behind me said, "You mean I'm being beat by a Grandma?"  He was 25.  I knew his age by the big, black number on his leg when he passed me.  We were all laughing by then.
Soon I passed Nicole, Megan, Tracey and Jill on their way back from their second loop and I knew they were all close to the finish.  I also saw Joe and knew he was looking very good. I was so happy for them.  I stopped at every aid station.  I marveled at every volunteer and their endless kindnesses and enthusiasm.  I knew I was going to finish.  I knew I was going to finish under my 8.5 hour goal.  As I neared the last turn up that final hill to the State House finish… I saw Jane and Brian running down the sidewalk looking for me.  They were calling and encouraging me and smiling.  They ran all the way up the hill on the sidewalk next to me… Janie taking videos on her iPhone!  I saw Linda, our cousin and wonderful friend, right next to them.  She was yelling, "AWESOME!  KEEP GOING!"
And that's just what I did.  I kept going. I could hear Barry and my children and my grandchildren, who by then were all up at the finish line.  I could feel the happiness in them and I knew I was mere feet from my 70.3 mile journey.  My goal. I crossed the finish line.  I don't remember raising up my arms… but I have a photo that says I did.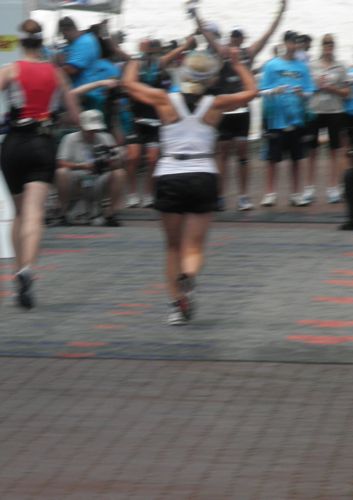 All I saw beyond that FINISH were Keith and Nicole in the finishers corral, both with raised arms.  I ran to them.  We hugged.  And then I felt like I could do it all again.
I felt INCREDIBLE.  I wasn't tired. I was just HAPPY.
(Within seconds of my finish, the 25-year old who didn't want to be beat by a Grandma crossed the finish line.  He smiled and gave me a big hug.  Athletes can be awesome like that. And, of course, he beat my final time because he started his swim Wave so far after me!)
I knew I had finished in under 8.5 hours, but never, ever did I expect to finish first in my age category of 55 – 59 year old women.  My official time was 8:00.01.  I was thrilled.  Within minutes, I was told that placing first in my category qualified me for the Foster Grant Ironman 70.3 World Championships in Clearwater.  What??!! Everyone was hugging me and high-fiving and smiling.  It was like a dream…
Then it was off to register for Clearwater and attend the award ceremony at Waterplace Park.  What??!! When my name was called to receive my (I must say!) awesome-looking trophy, the announcer said, "If you had finished 2 seconds earlier, you would have had a time in the 7's!"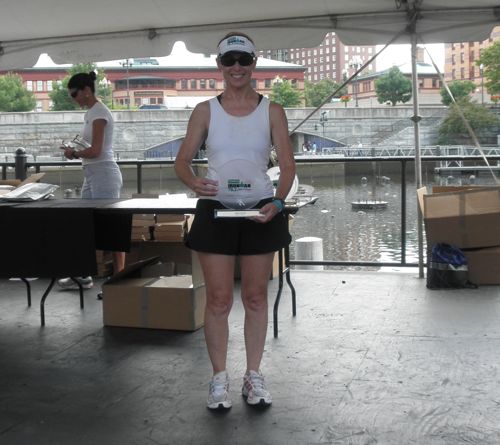 I did know that.  But the time it took to wave to my kids and grandkids or plant little kisses on their beautiful little faces meant that I did 8 hours rather than something in the 7's… that's OK with me.
'Cuz there's always next time!  And also while at the ceremony, Jane got an unclaimed spot to Clearwater in her age group of 30-34 females.  So it looks like Janie and I, the mother-daughter team, has 16 more weeks of training and then a Road Trip to Clearwater!
And speaking of Clearwater,  I must reiterate here that I never imagined going on that journey.  But, serendipitously enough, on the day before the Amica Providence 70.3, my Mom was reading the magazine that came tucked into the official Amica goody backpack.  She was amazed at the number of 70.3's that take place around the world and she kept saying things like, "Sharon, you should do the one in Benton Harbor, Michigan." [I was born in Benton Harbor, MI!]  "Or the one in Sonoma County or Gilford, New Hamphire."  [My family had lived in both California and New Hampshire!] My Mom commented on the attire… or lack thereof … on the man on the cover of the magazine and asked if all triathletes dressed like that. I teased her about her interest in the guy rather than the 70.3's around the world and snapped a photo of her studying the magazine! Who knew that the very next day my daughter Jane and I would be on THE ROAD TO CLEARWATER.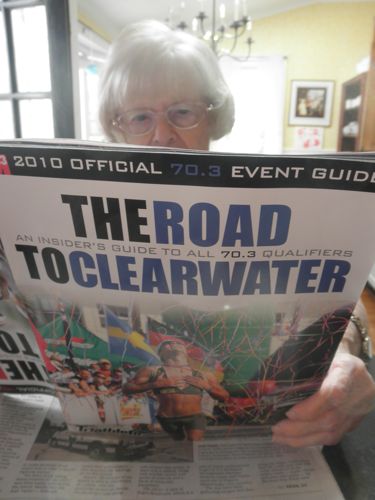 It's funny how my road to Clearwater began not quite 2 years ago with a simple wish to run a 5K in a Halloween costume for my grandchildren.  It's amazing where life will take you if you're open to challenges and possibilities!
So Clearwater here we come. This Grandma's still got some more swim, bike and run in her!
And, oh yeah… mastering the clip-ons!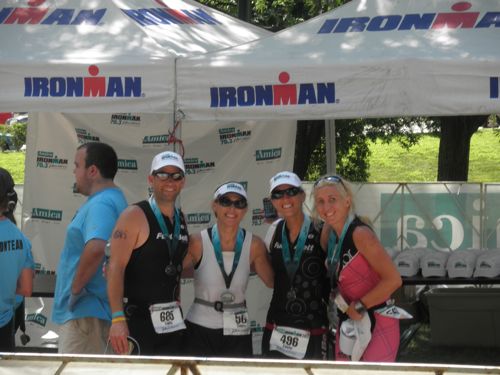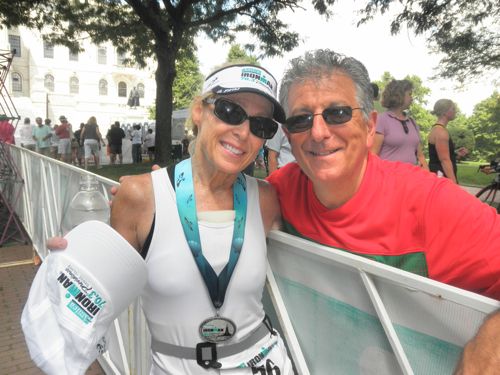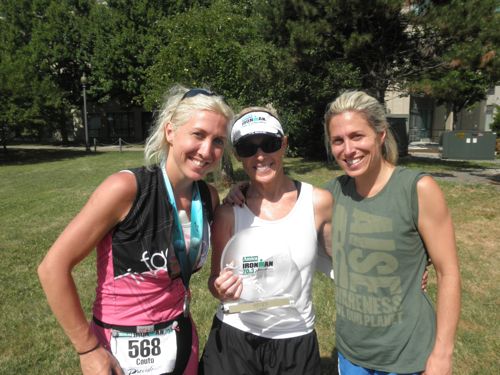 FINAL STATS: Swim – 56.31, a bit faster than I had calculated/Bike – 3:56.09, faster than I had calculated/Run – 2:50.16, a bit faster than I had calculated but in definite need of improvement/Transitions – need improvement