Growing up, I didn't spend a lot of time on boats. (Being nautical, to me, meant wearing blue and white stripes.)
I also tend to panic easily.
I've outlined both of these points before.
And yet, over the weekend I put my trust in Brian's boat again – yes, post-gas-leak-incident – and yes, in Brian himself, and indulged his desire to spend the afternoon out on the harbor. It was a beautiful early-Fall day. The skies were blue and the water was flat.
Sure, I had watched Titanic on TV the night before, which made me a little uneasy about boats, but you know, we're talking about completely different circumstances here.
The boat launch that is usually crowded during the summer was virtually empty. We were able to get the boat in the water quickly, and began our jaunt around the harbor.
The water was so calm that we just glided through it. We were both enjoying the boat ride.
And then Brian told me to take the wheel as he went to the back of the boat, lifted up the engine cover and looked at the engine.
"What's wrong?" I asked.
"Nothing."
"What are you looking at?"
"Nothing. Just checking something."
"Well, you wouldn't be checking something unless there was something to check."
Semi-ignoring me, and thus avoiding the possibility of follow-up questions, Brian came back to the front of the boat and took the wheel. All seemed normal and we went back to enjoying the boat ride.
Until I smelled something a little "off."
"What's that smell?" I asked.
"It's just my hands from checking the boat."
"No… it smells like smoke."
Brian went to the back of the boat and lifted up the engine cover again.
Yup… smoke.
I wondered how he was going to talk his way out of making me panic.
"Looks like we're overheating," he said with a hint of a sigh.
Sensing that this was cause for alarm, I asked, "What does that mean? Are we stranded? Are we going to sink?"
I looked around and saw there were no other boats in sight to help us – remember how empty the boat launch had been?
I had visions of fighting Billy Zane for a spot on one of the last life boats.
But we didn't have any life boats. And, okay, in reality I could have swum to the shore if I really had to. But I didn't want it to get to that point. Besides, we had Ryder and Tansy with us, so I felt the protective mama in me kick in. We had life jackets for us and the dogs on the boat, but the dogs were both just relaxing, looking so content and comfy, and I didn't want to have to disrupt or upset them.
Brian assured me that we could just – and I quote – "limp back" to the dock. It didn't sound like the best plan, but it seemed like the only one we had.
But when I realized it had taken us about 20 minutes to make it from one side of a mansion along the shore to the other, I had to rethink the wisdom of this strategy.
Luckily, soon we saw another boat approaching us.
"Flag him down!" I told Brian. "He can tow us back."
When the other boater saw us, I think he momentarily tried to pretend he didn't realize we needed help. He turned around to see if there were any other boats around to help us – yes, I'm speculating here, but this is what it seemed like – before realizing the buck stopped with him.
"Can you give us a tow?" Brian asked.
We weren't asking to go far, so the guy, who was with his wife, agreed to tow us. Their boat was about the same size as ours, so I figured it would take awhile, but hey, beggars can't be choosers, right?
Brian had already tied a line to our boat, so he threw the rope to the other boater and off we went… slowly.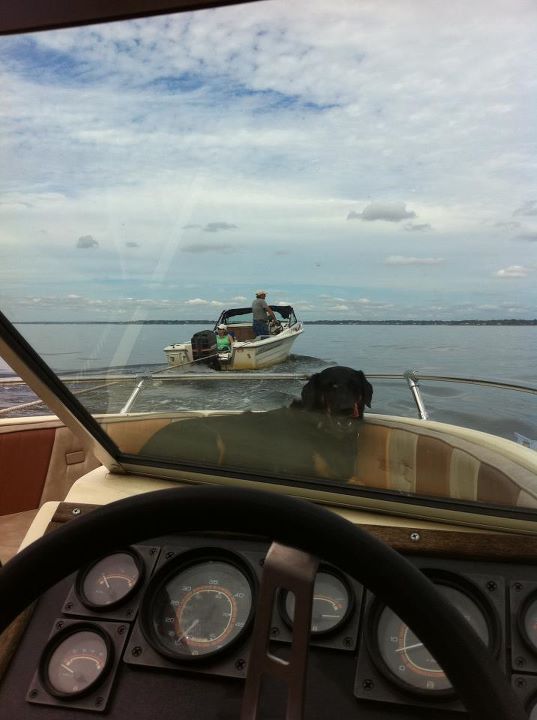 As you can tell, Tansy was as calm as can be. Ryder was, too. And so was Brian. Me? I was still freaking out. Because there was still that smoke issue. And until we were safely back on land, I was pretty convinced that the boat was going to blow up.
But we made it back and the boat didn't blow up or sink. So I was cool with that.
But I wasn't cool with Brian's insistence that he could fix the boat back at his shop.
Nope. I'm all set with that boat. I'm going back to my nautical roots.
On a not-totally-unrelated note, remind me to ask Audrey how to best accessorize my new blue-and-white striped top.