I feel so very fortunate that my Mom and my Dad are two of my best friends. I know I speak for myself and my 3 siblings, too, when I say that our parents have always made us feel loved and encouraged in everything we've done.
I know I gave my parents some challenging parenting moments, especially during my teenage years, but we have always had an incredibly strong connection. They have always stressed the importance of spending time together as a family… traveling together… trusting each other… sharing together… laughing together…
Doing activities together is how people bond. It's how parents teach – and learn from – their children.
And as Bonding over Beauty author Erika Katz explains, it's how mothers can foster self-esteem, confidence, and trust with their daughters.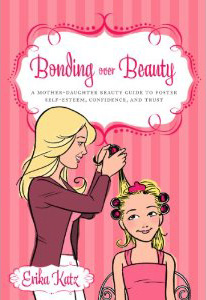 My mom and I had the pleasure of meeting Erika last month, and I was so excited for the opportunity to review her book.
Reading through the chapters, I found myself nodding my head in agreement on numerous occasions. Written for moms of tweens and teens, Erika offers fabulous tips for building a bond that will last a lifetime. Hair care, makeup, shaving, proper hygiene, a girl's changing body during puberty… these are all topics that daughters are going to have questions about, and the advice in Bonding over Beauty is real and practical for moms.

Activities like shopping for skin care products, curling or flat ironing hair, doing at-home manicures… these are all perfect opportunities for starting a dialogue with your daughter about anything from fun topics to those sticky "grown up" issues that you need to address.
I can speak from first-hand experience in saying that some of the best conversations my mom and I have had together over the years have happened while we're cooking together, doing our makeup together for an event, working out together, or, believe it or not, while my mom tweezes my eyebrows!
Erika's advice is lighthearted but not suger-coated. She tackles everything from mascara to menstruation – all the topics tha daughters need to talk about with their mothers. Each chapter includes Bonding Activities to give ideas on how to, well, bond over beauty!
I recommend Bonding over Beauty to moms of tweens, teens, soon-to-be tweens and teens – and even adults!