I haven't been able to run in about 6 months.
Back in March, during one of my training runs for the Boston Marathon, I had some pain in my left arch. I iced it, rested it and ran again. It felt okay.
Then I went to an event in NYC and wore mega high heeled boots for, like, 6 hours straight.
Afterward my arch was on fire. And it literally has never felt the same again.
I've been told I have everything from tendonitis to plantar fasciitis to plantar fibromatosis.
Basically, depending on the day (or hour), the bottom of my foot is probably in pain, numb, inflamed – or a combination of the three – anywhere between my heel or my toes (but mostly right along the arch).
I've been going to physical therapy since July, which has helped. I bought arch supports at CVS, which helped a little. I got custom orthotics made, which were very expensive but didn't help at all.
I've been able to do yoga and ride my bike and lift weights, but sometimes my arch will hurt even when I do something that usually feels okay.
And I miss running.
I miss running with Brian. It's how we really got to know each other when we first met. It is, actually, how we met.
I miss running with my Mom. It's how we kept each other motivated to work out last winter.
And now my Dad has taken up running and I feel like I'm missing out on running with him. He has always been one of my biggest supporters, and I want to share the joy of running with him.
It is very frustrating.
I want to run again!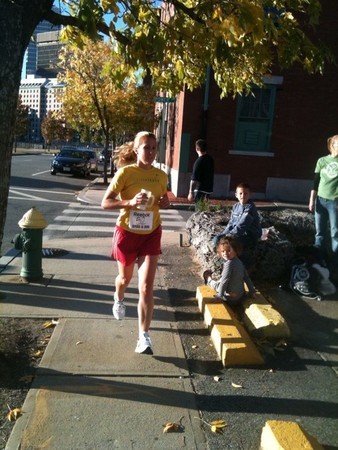 Have you ever had to take time off from something you love?