Here on 365 Days of Literacy for Kids, your kids will be "dressed" with IDIOMS during the month of September.
IDIOMS are phrases that reveal "secrets" from the past. IDIOMS come from many sources, many languages, many authors, many cultures. The "hidden" meanings in IDIOMS are great fun for kids, but also teach important, interesting and intriguing lessons in how language has developed and evolved over time.
Each SEPTEMBER IDIOM on 365 Days of Literacy for Kids will address something to do with clothing… such as teaching kids the meaning of the influential riding someone's coattails idiom.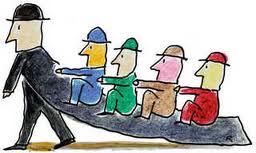 The idiom riding someone's coattails means to use the influence, status or importance of another's position to improve your own.
– Origin of riding someone's coattails Idiom:  Riding someone's coattails comes from the fashion of a tail on a (primarily) man's coat.  Coattails were once in vogue, and are still worn today in formal attire.  Check out the image above to give your kids an idea of a coattail on a man's coat.
Riding someone's coattails is a free ride of sorts on the tail of someone considered very influential or important… kind of like going along for the ride.  This idiom is not always complimentary, meaning that you're attempting to get recognition without all the hard work.
Kids will easily recognize the concept of the idiom riding someone's coattails and may even know people who do.
Dress your kids for back-to-school success with knowledge and attention to riding someone's coattails.
Take a few minutes each day in SEPTEMBER to teach the secrets of IDIOMS to your kids & grandkids.  Understanding IDIOMS is a wonderful way to enrich reading and language development.
And I'm not just talking through my hat!