Etsy Fashion Find: Pretty Peacock Jersey T-Shirt Scarf
Etsy has become a new little obsession of mine.  I love the handmade items from women and men that are truly passionate about what they're creating.
Last night as I was perusing around, I found this ultra-chic and very-cool scarf by sandeeknits… for $16.20.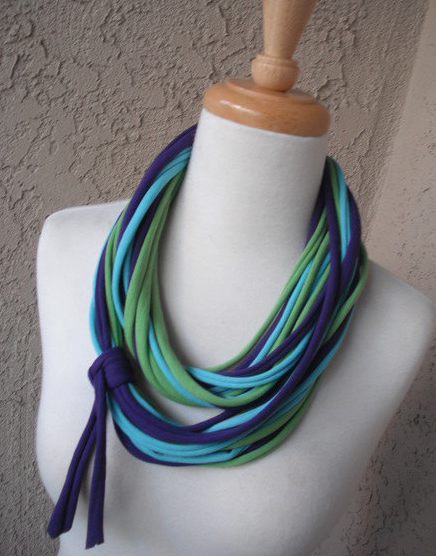 How cool is this?
Pretty Peacock jersey t-shirt fabric scarf necklace bursts with loads of delicious colors guaranteed to have you heading out the door in style.
This multicolored fabric scarf necklace is so fun and colorful. Created from three new 100% cotton t-shirts in shades of purple, turquoise and lime green, it's certain to add pizazz and a pop of color to your wardrobe.
Wear it unlooped on warm days or give it a twist and wear it cowl-style on cool days. Not a fan of the tie? Simply remove if you prefer to wear the strands loose. The choice is yours! It's a perfect, year-round accessory.
OK, moms… you know I love a good scarf, and finding them this original and creative – LOVE!!
There are some fabulous finds on etsy! You have to get lost a little in the site, but it's SO worth it!