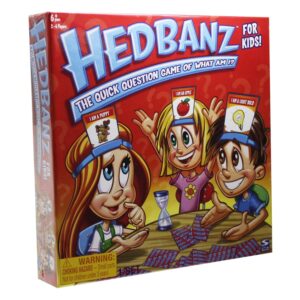 Hedbandz
for Kids has quickly become the boys' favorite new game. Seriously, they sit in a circle and laugh for an hour as they ask questions trying to figure out what is on their card.
It's been more than just entertaining for me because I've watched them develop their line of questioning to deduce what their card is. Granted, Ben and Henry fall below the recommended age of 6, but they have just as much fun trying to guess what they are as their brothers as they blindly guess rather than asking questions and narrowing the field.
[youtube]http://www.youtube.com/watch?v=rBowZRoO4Sg[/youtube]
In addition to trying to guess what they are, they also love when the time runs out and they finally get to look and see. I would have never guessed learning you were a goldfish would be so funny to a six year old.
Hedbandz
for Kids is a Spin Master game and comes with 74 cards, 6 headbands, 24 game chips and a timer.