The HOLIDAY SANTA PHOTO.
It's the ONE photo we do every year. It's our Christmas tradition.
For the last 6 years, I've dressed them all alike… but in all honesty, it's getting more and more difficult to do as they're getting older. They now have their own tastes and styles (someone hold me).
So I did a little "trick" this year… dressing them alike, but different.
I let them each pick out a striped sweater – in whatever color they wanted. 🙂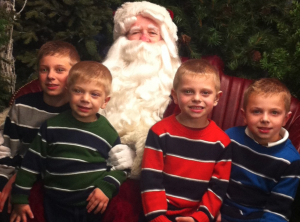 So they all "thought" they were dressed different.
But I knew they weren't. 😉
Find a style you love… or a color you love… and work it individually for each of your children.
Happy Holiday PHOTOS!