I'm asked ALL the time about some must have mom fashion essentials.
I wish I could develop a mom-fashion-essential line… ahh, my dream! Someday… !
But in the meantime, there are definitely some mom fashion must-have essentials that everyone should have in their closet. And I love sharing some of my favorite finds with you!
A Black Skirt is a HUGE Mom Fashion Essential. Seriously, everyone should have a black skirt in their closet. I don't listen to the "fashion mags" saying pencil, long, mini, bubble, skort, etc. My rule of thumb? As long as it's a skirt and as long as it's black… you're GOOD.
I have 2 GREAT recommendations:
This fabulous Yummie Tummy Reversible Black/Gray Skirt… there's nothing better than a fabulously fitting skirt and also one that is reversible and shapes you (it's called magic)!  I'm addicted to Yummie Tummy's shaping clothes, total essentials for moms! 🙂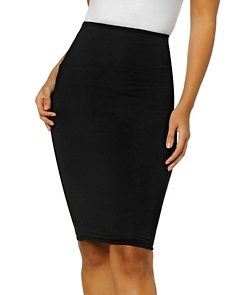 Or this Classic Black Skirt from Black House White Market… This is one of those skirts that you have in your closet for years and years and years.  It's just fantastic!