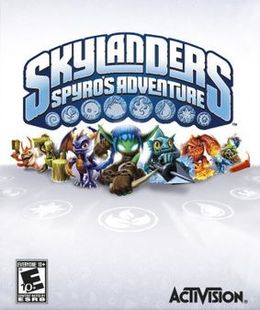 It's not often that I get as excited about a new game as the boys, but when I was at the Time To Play Toy Fair in New York City a month ago I saw something that caught my eye. I walked up to a large flatscreen on which a guy was playing Skylanders Spyro's Adventure. I'm a sucker for a good video game and it looked cool, I knew the boys would love it, after all it was a character battling through an imaginary world.
He asked if I wanted to try it out, of course I said yes, but then he did something that blew my mind. Rather than handing me the controller, he told me to grab a character and place it on "The Portal of Power" which was sitting on the table surrounded by little figurines that I figured were a spin off of the game. I picked one up and set it down on the portal and that figure was transported into the game! "What just happened?"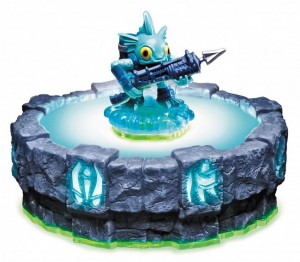 It turns out that the figurines weren't just toys to buy, they were actual game pieces that contained a chip sensed by The Portal of Power which dropped that character into the game. I hadn't seen anything like that before, but it got better. As I played, he explained to me that each piece remembers it's game experience on its chip. As you progress in the game and your character ranks up and gains experience, the data is saved to the chip. As if that wasn't cool enough, you can then take that character to your friends house and your guy retains all his previous experience so you're not starting over from scratch.
[youtube]http://www.youtube.com/watch?v=NkpHI3M0HqI[/youtube]
In addition to working on all the major gaming systems, you can also go to www.skylanders.com and enter the figures unique code and play online where you can meet new friends and explore new worlds and mini games. My boys LOVE that because when one is playing another game, they can still go online and play.
I swear, we're hitting the store twice a week as they boys look for new figures to add to their collection. There are eight different element groups the Skylanders fall into: Air, Life, Undead, Earth, Fire, Water, Magic and Tech, each containing 4 different Skylanders for a total of 32. In addition there are Adventure Packs which open up new worlds and challenges to explore. I'm certain that if we don't have them all by Christmas then Santa will stuff the rest into stocking.
William has his eye on the Nintendo 3DS Starter pack which includes the game, a Portal of Power and three Skylanders figures. It's been cut out of the circular and glued to his Christmas list for weeks!