Easy Bake Ultimate Oven
Review: Who said boys don't like to bake?
My sons LOVE to bake. Or, well… they love to watch me bake. The things I'll let them do is put the butter in the bowl or add water and oil. You know, little things like that. But they ALWAYS want to do more.
I had been hearing about the Easy Bake Ultimate Oven
a ton lately and thought to myself… this is perfect for them! Who said boys couldn't have some fun with an Easy Bake Ultimate Oven
, too?
Oh, well… the had FUN!! Lots of fun making "Dad" a birthday cake.
This is – hands down – a PERFECT Holiday Gift!! Love the updates to the Ultimate one!!
This brought me back to my childhood!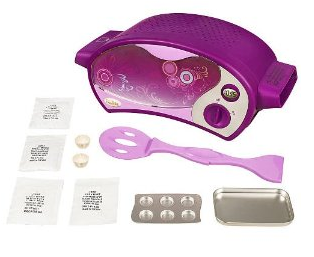 Disclosure: We were sent this item for review.