There's only 3 days left till Christmas… and there's still PLENTY of time to take advantage of the amazing "Here's to Mom" MasterCard Promotion!
It's VERY easy…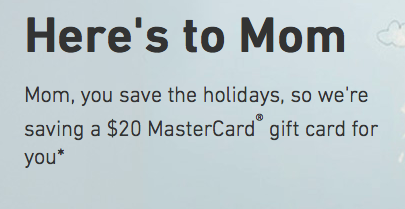 MasterCard wants you to relax this season and get rewarded for it… and they want you to feel the ease of budget management through simplified online tracking of your purchases through their holiday promotion.
I've been chatting with so many moms out there who have taken advantage and I love hearing that they have! It's super easy to do… and at the same time, you're getting rewarded!
It's as easy as 1, 2, 3:
1. Enroll with your MasterCard.
2. Shop with your card online between NOW and December 31, 2011.
3. After spending $200 online, you'll receive an email confirming your qualification and instructions on how to get your MasterCard gift card or other gifts.
(Limited time, limited quantity. Promotion Open to US Residents Only.)
ENJOY! ENJOY! ENJOY!
I love seeing companies add on some incentives to shoppers this holiday season, especially the moms! I actually only have 2 more people to shop for on my list, so I'll be out and about taking advantage of the "Here's to MOM!" MasterCard Promotion this afternoon… !
Disclosure: Sponsored Post.