While spending the afternoon with Jane last week trying on bridesmaid dresses, I happened to find in my old dresser 2 very special letters.
But not just any letters.
Letters that Matt and I wrote to each other the night before we got married on June 30th, 2001.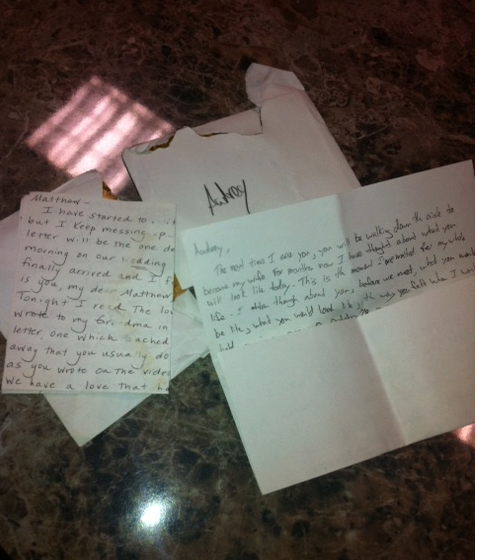 Finding these letters was like finding gold. It was so incredible to read them and see what we wrote to each other. We had know idea what life had in front of us, but we knew one thing for sure… we loved each other more than anything in the world.
In each letter we both said that we couldn't wait to be parents… I smile now looking back, little did I know 4 little men would be in our futures.
Finding these letters made me realize something. Matt and I totally need to find more "Matt and Audrey" time. We get so caught up in our busy lives, that we sometimes forget to even take the time and just be with each other. It gets tough with little kids. It gets tough with activities and work and well, life as an adult and parent.
But reading those letters… it definitely make me realize that DATE NIGHTS need to be back in order.
After all, we promised each other back on June 29th, 2001 that we would do that…