I make wishes when the clock reads 11:11 every day, twice a day. It all started when I was a little girl, I just loved doing it… and it continued as I got older. There's something very inspiring and wonderful about that 11:11 moment. Everything in the world seems possible in that 60 seconds, and I love it.
I have passed this tradition onto my sons, too. It's the cutest thing in the world when William says to me, "Mom.. it's 11:11, make a wish!" Now… he usually wishes for Nintendo DS games, but either way, he gets that he's supposed to wish for something really hard.
So… when I heard about the Wishing Watch, I thought it was incredible and I just LOVED it!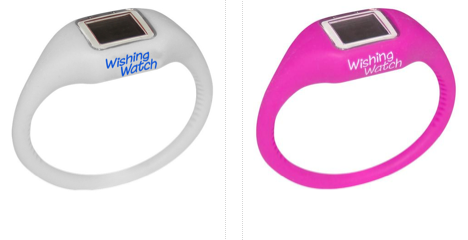 The idea behind Wishing Watch is that magic happens twice each day when the clock reads 11:11. The Wishing Watch cues you to make a wish, think a positive thought or do something to help another person! Wishing Watch is pre-set to alarm once every day at 11:11 a.m. to remind you to make your wish.
Isn't that beautiful?
For each watch purchased NOW through December 31, 2011, the moms at Wishing Watch will donate $3 to the charity of your choice. I have chosen St. Judes… it's something that's very near and dear to my heart and I love what they do for children.
When ordering a Wishing Watch, I would love your support in helping me donate to St. Judes… love for you to add this promo code: STJUDES to your order for $3 to be donated right to them.
Make wishes for yourself and for others…
xo