Let me start this post off with this statement, I didn't know that Ann Taylor Wedding Dresses even existed! When I found out that they have a wedding collection, I was floored! What an amazing thing for them to do because they dress women all the time, what better time than their wedding, too! Shortly after I met Brian in August 2009, we started dating. And soon after that, I realized that he would make an amazing husband. In May of this year, Brian proposed to me. I, of course, said yes, and the wedding plans began.
Ann Taylor Wedding Dresses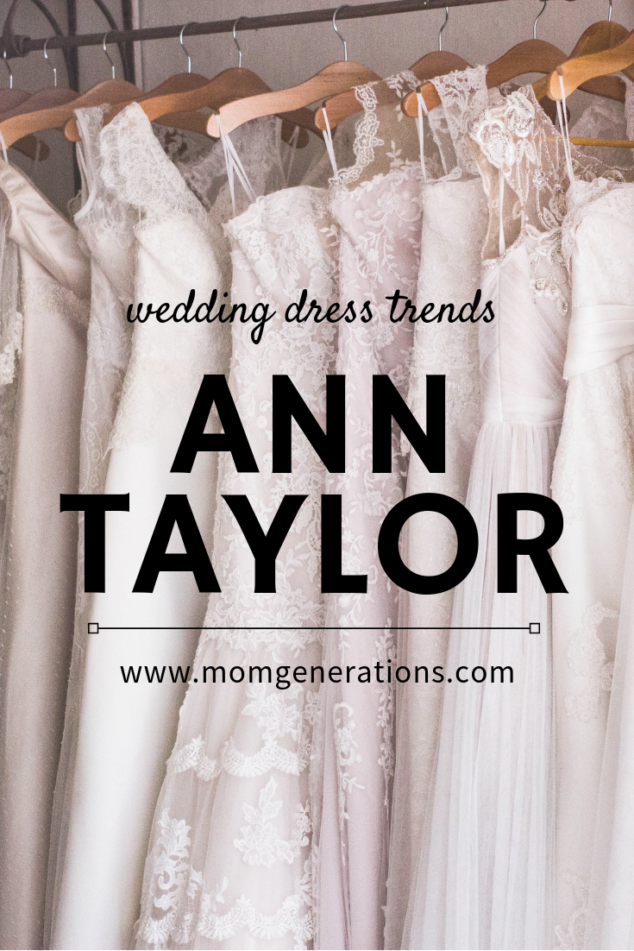 We were able to make a decision about the wedding date and reception venue rather quickly… we booked the church… we locked in the photographer…. I asked my sister to by my Matron of Honor, and my two nieces to be bridesmaids. Brian asked his brother to be the Best Man. But I still needed to find my dress. We're having a rather intimate wedding – about 115 people. The reception is at a yacht club, but it's not a stuffy one… it has a casual, understated, but elegant vibe to it… exactly what Brian and I envision for our wedding.
So I wanted a dress to match the wedding atmosphere. The second I saw the site for Ann Taylor Wedding Dresses, I knew I would find one. Honestly, the thought of going from bridal store to bridal store overwhelmed me. The town my parents live in has an abundance of wedding shops for some reason, and whenever I'd walk by them, I'd admire the beautiful dresses, but just couldn't imagine myself in them. They were too elaborate, too ornate… too much for me.
I started looking for dresses online (I mean, it's where you can find me about 15 hours a day, so it only made sense), and I kept getting drawn to Ann Taylor's wedding dresses, the collection was amazing.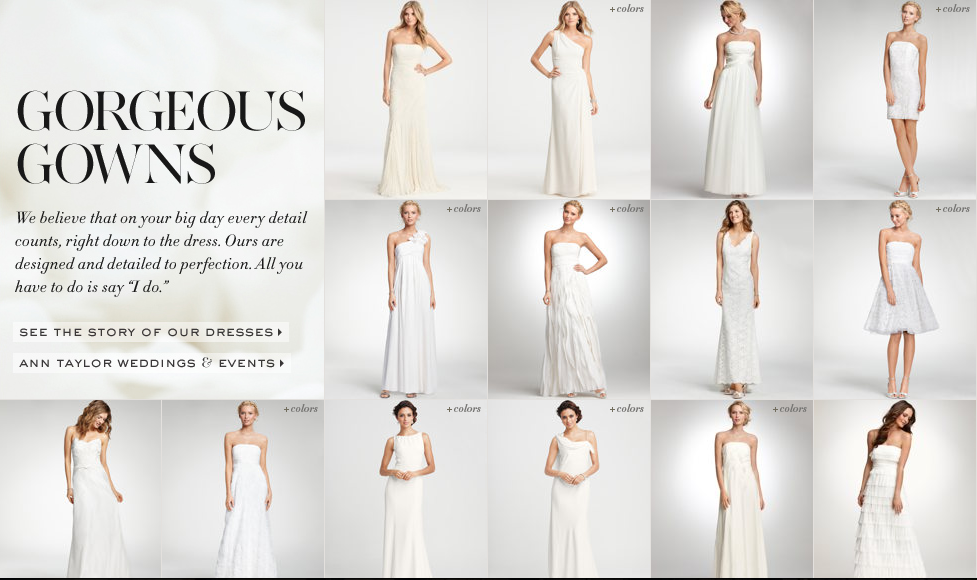 I loved that the Ann Taylor Wedding Dresses were simple yet elegant, classic and romantic. Plus, they are not outrageously priced, and anyone who is planning a wedding knows you need to stretch every dollar! For me, spending thousands on a dress just didn't seem necessary. The best part was that I could actually see myself marrying Brian in an Ann Taylor wedding dress, and dancing the night away at our reception in it.
To my absolute delight, Ann Taylor Wedding Dresses was up for the idea of a collaboration! Not only do I get to wear a dream wedding dress for myself from Ann Taylor, but Audrey and Mom will be dressed by Ann Taylor for the big day, too! I was able to choose the dresses I wanted to try on from the collection, so I picked my 6 favorite:
This one just seemed like a relaxed goddess type dress! I love the look of this one and really thought it would be pretty and elegant. But look at the PRICE!!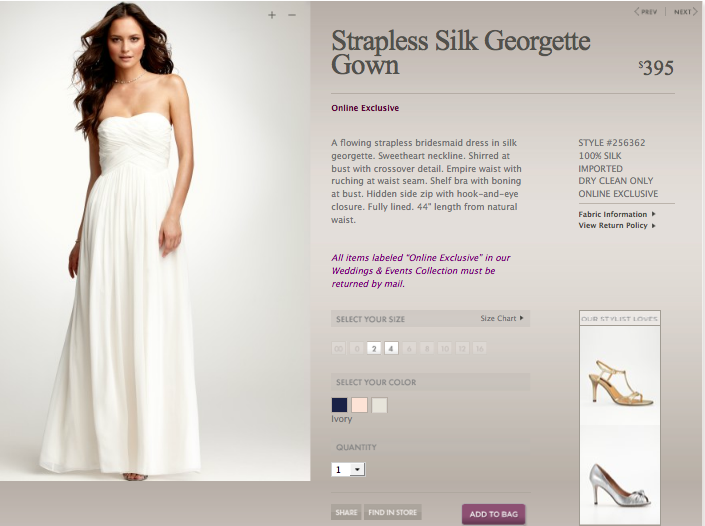 I love the ruffle on the bottom on this one. It's just different and beautiful and just pretty!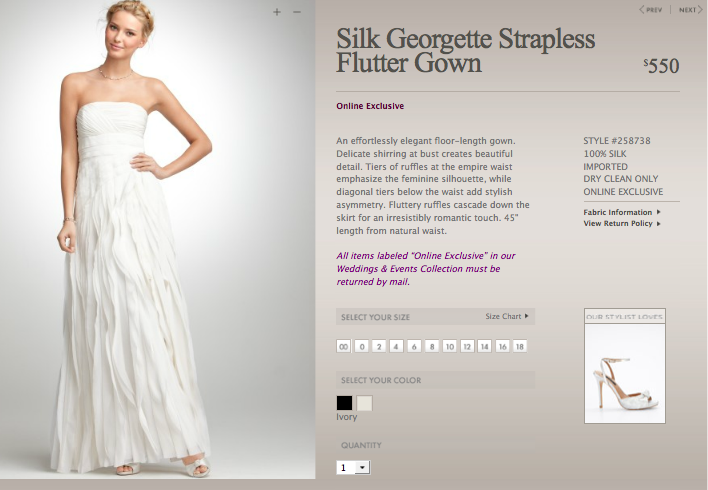 This one is a little more lace-y than I wanted, but I'm drawn to it. I love it so much and really think it's a beautiful dress to wear. It's a show stopper!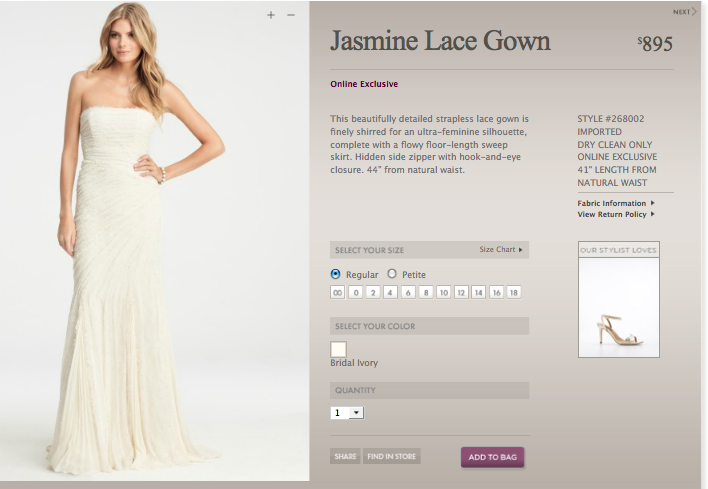 The tulle on this gown is GORGEOUS!! I love the look of this one, I just think it's so pretty and elegant!!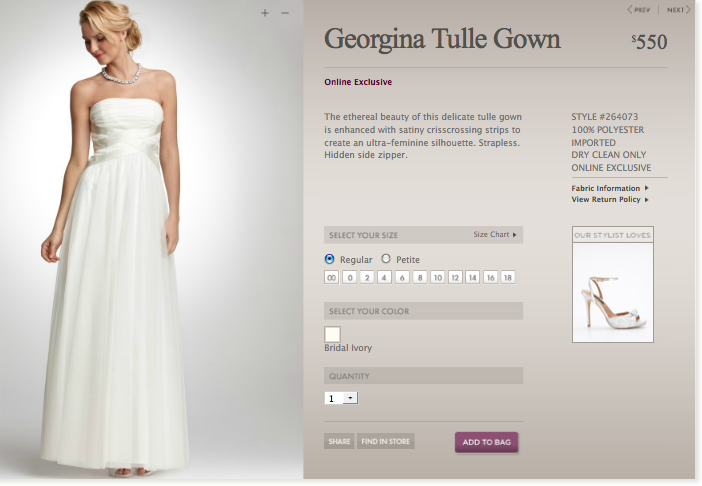 OK, this one is probably my fave! I really think this one is just adorable!!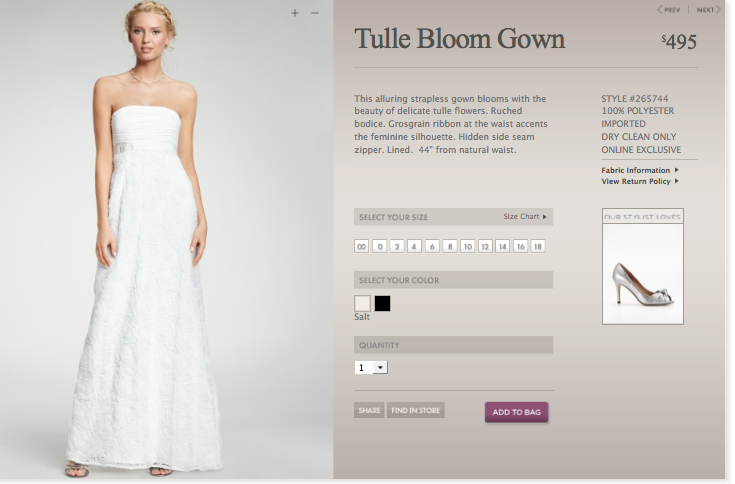 The straps on this one are just perfection! It's just a beautiful dress with a gorgeous look!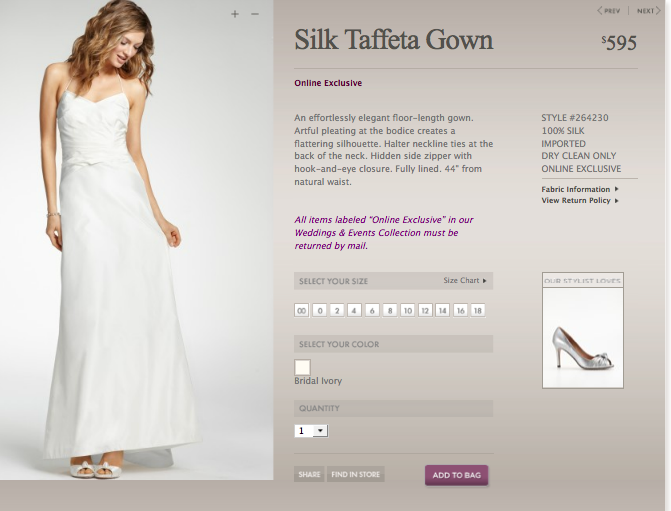 Here's a video of me seeing all the dresses in person for the first time, and trying them on:
[youtube]http://www.youtube.com/watch?v=Bc_ocR9wglU[/youtube]
I've narrowed it down to two dresses, but I will reveal my selection in another post! (And I will show you the amazing Ann Taylor bridal party dresses in another post, too!)
I want to know: which do you like best?
See this fun post on what to wear to a wedding if you like the floral trend!
—
Disclosure: Ann Taylor is sending me, Audrey and Mom the dresses of our choice for the wedding.