I never owned anything cashmere until I was 20 years old living in NYC and working for Donna Karan. My boss had gifted me with a gorgeous black cashmere sweater after working there for a couple of months, and I just fell in love with it. I was making barely enough money to cover my rent at that stage in my life, so I knew if I wanted more cashmere, I was going to have to work hard, really, really hard.
The beautiful thing about cashmere nowadays is that you can get it at different price points, which is wonderful! This past Christmas I was able to get my husband 3 cashmere sweaters at Macy's (Charter Club) for $39.99 each! They were marked down from $90 and I just hit a really good deal that day. Or you could go to Ralph Lauren and pay over $300 for a cable knit cashmere sweater – it's completely up to you. 😉
But in all honesty… everyone should own SOMETHING cashmere. Something.
My all-time favorite cashmere item is a hat, just a simple beanie hat. There's something very warm and cozy about putting something as soft as cashmere right on your head. It's awesome.
Here are 5 places to purchase a gorgeous cashmere beanie hat for UNDER $60 (and don't forget, cashmere lasts forever!):
1. Cashmere Exclusively by Bloomingdale's "Angelina" Slouch Hat $45.60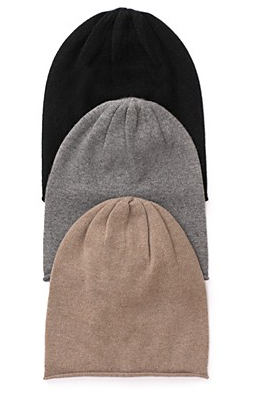 2. Cashmere Exclusively by Bloomingdale's Cable Knit Cuff Hat $45.60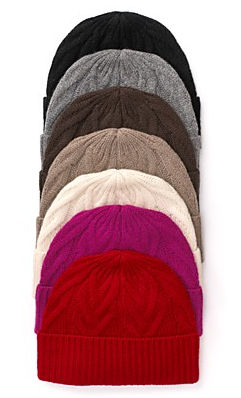 3. Red J.Crew Cashmere hat $29.99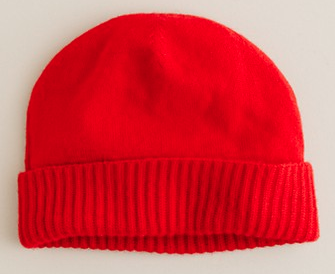 4. Pure Collection's Cashmere Beanie Hat $23-43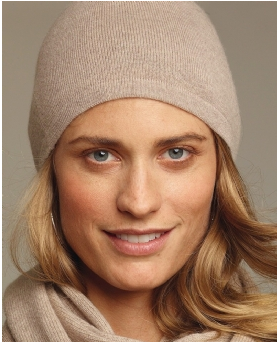 5. Portolano Black Popcorn Cashmere Stitch hat $22.99