How to delight a child with a poem and a bit of imagination…
Yesterday afternoon, my 3-year old grandson Henry asked, "Grandma, do you have any new poems?"
(Since January 1st, I've been doing some posts about poems & kids… and I have some built-in grandkids around to experiment with.  I call it Take 2 minutes today… and here are some beautiful little poems that I love to teach:   TEMPLE BELL by Yosa Buson,  THE RED WHEELBARROW by William Carlos Williams,  I, TOO, SING AMERICA by Langston Hughes,  DRAGONFLY CATCHER by Chiyojo, RED SLIPPERS by Amy Lowell… and my latest poem, HOW DOTH THE LITTLE CROCODILE by Lewis Carroll.)
But back to Henry.
"Do I have poems?" I asked back.  "I'll never run out of poems. Ever!"
Henry smiled as I asked, "Do you want to read a poem about a CROCODILE?"
OH, HOW ENTICING.
Off we went to my computer and to HOW DOTH THE LITTLE CROCODILE…
HOW DOTH THE LITTLE CROCODILE by Lewis Carroll
How doth the little crocodile
Improve his shining tail,
And pour the waters of the Nile
On every golden scale!
How cheerfully he seems to grin,
How neatly spreads his claws,
And welcomes little fishes in
With gently smiling jaws!
I read the poem to Henry with my hands clenched like crocodile jaws… just for "welcoming" the little fishes.
Henry giggled and jumped and asked me to read-it-again.  Again.  And again.
Then Henry asked if we could MAKE a crocodile.  He remembered reading about a crocodile in his library book SPOT GOES TO THE PARK by Eric Hill...
And sure enough, there was a perfect Eric Hill crocodile to trace, to color, to cut…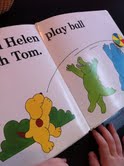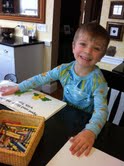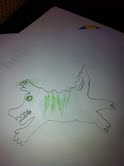 We just had to add a few little fishes…
To make this most delightful time with a boy, a poem and a homemade crocodile prop…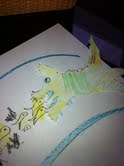 (And, of course, we DID create the ball, the hippo and Spot. Thanking both Lewis Carroll and Eric Hill for the most delightful moments today. Take 2 minutes today to join the fun!)