How to Improve Kids' Reading & Vocabulary Skills AND teach Poetry in 2 Minutes a Day…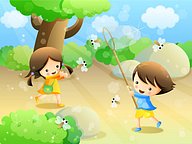 Let's take a joyous walk today with our kids and 20th century poet Japanese Chiyojo as we celebrate a simple wonder and question of life captured in her haiku...
Dragonfly catcher,
How far have you gone today
In your wanderings?
Read the poem with your kids.
Talk about the dragonfly catcher.  Who is he/she.  Is it a child?  How old is the child?  Has he/she been at play?  Did he/she take along a friend or two?
Talk about the voice or speaker in the poem.  Who is asking the question?  Is it a mother?  A father?  A grandparent?  Is the mother or father or grandparent worried or angry… or is the question one that delights the one asking?
Perhaps memorize this haiku and ask this little haiku question. Pretend your child is the dragonfly catcher. Let him/her answer… using his/her imagination! Has he climbed mountains, crossed streams, fought dragons and traveled to the other side of the world?  Has he used his little dragonfly catching net?  How many dragonflies has he caught?
Older children may recognize the traditional haiku form… 3 lines of verse with 5, 7 and 5 syllables respectively.  You may wish to talk about haiku form with younger children and have them count the lines and syllables.
Or perhaps you'll simply enjoy the beautiful moment of the poem… time standing still as a mom/dad/grandparent asks the age-old question so what have you been up to today?
It's amazing how so few words express so much care and love.  Chiyojo has given us this gift today!
Remember… "To read a poem in January is as lovely as to go for a walk in June." – Jean-Paul Satre

Remember, too, that READING is all about WORDS – Written, Spoken, Felt!
Ah. Children LOVE words and how they're strung together.