Believe me, it's tough to explain to people what I do. Not everyone understands the life of a digital mom, and I get it… I really do. Even my own mother-in-law has scratched her head and asked me to explain it to her a few times. But you know what, I get it. I really do. It doesn't always make sense when I'm talking Twitter, Pinterest, Facebook, YouTube and WordPress lingo… ! 🙂
But it was a photo that someone shot of me and my blogging girlfriends last night that really made me laugh… and know that there are just some people in my life who not only get it, they live it, too.
Me and my girls… Vera, Danielle, Colleen and Ashley… were at a P&G Event called "Have you tried it yet?" this week in Miami. We were all tweeting away and Facebooking photos out, and someone said to us… "OMG, you girls are ALL on your phones right now, let me snap a photo!" And she did. And I loved it. Made me smile.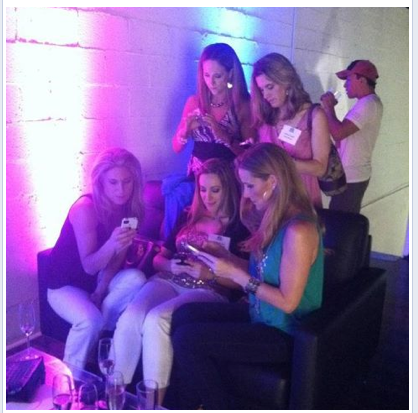 Love you girls!