An old dog teaches me a darn good new trick…
I have a granddog named Ryder who is one of the great joys of my life.
She came to our family… well, to my daughter Jane, really… 10 years ago.  We had recently said painful good-byes our 2 family dogs, two brothers whom we had rescued and raised for 13 and 14 years respectively, and the grief was unbearable.
I still remember Jane's "new puppy" phone call as clearly as if it was this morning.
"Mom.  Listen, Mom.  I know this may be too soon… but…"
I knew where this was going.
I listened.
But I had a great big NO locked in my heart and on the tip of my tongue.  I knew I could not fall in love with another dog.  I didn't want to.  The pain of loss and grief was still so raw.
And oh, Jane was going to be a senior in college and the puppy would be living with Barry and me until Jane found an apartment.
As Jane talked, my heart was melting, but my words were steadfast.  NO. NO. NO.
And that was that.
Well, this was that…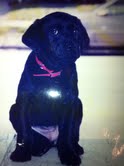 One moment that has turned to 10+ years.
Ryder has brought more sweetness, innocence, joy, fun and love than I can possibly explain to every single moment of every single day since.
She has filled our hearts with her extraordinary beauty…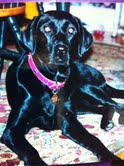 She has astounded us with her genuine kindness to all people and animals, her calm, her innate sense of fairness, her caring.
Ryder has blessed us.
But today my little girl who is now a little old gal went one step further than all of this and taught me a darn good lesson about life… about growing old…
Ryder loves to play.  But her bones are a little creaky now, and she can't quite keep up with her younger (also rescue) siblings, 4-year old Tansy and 7-month old Jethro.  There was a time when she could race like the wind and jump to the clouds to catch her beloved tennis balls… especially with her now deceased older (also rescue) brothers Bizzy and Seth.
And that's where her great lesson to me comes in.
I'm "babysitting" Jane & Brian's 3 dogs while they are away, and I've been bringing them to our local park for some exercise.  Tossing tennis balls.  Some romping.  Some fun.
Ryder chases a ball as far as I can throw it, but Tansy always gets there first and loves to bring it back, or Jethro gets there first and runs away with the ball.
Today, I didn't have time to head to the park, so I headed into my small back yard for a little fun and exercise.  Some tennis ball throwing.
Jethro stole the ball as often as he could.
Tansy ran down the ball with the agility and ease of an Olympic runner/gymnast.
Ryder kept up with Tansy, but could never quite reach the ball first.  My eyes filled with tears as I watched her.  She used to be the fastest, most agile, most nimble and quick.
She used to somersault and dive and gyrate just to retrieve a ball.
So I decided to roll the ball slowly to Ryder every once-in-awhile so she could get it first.
She was confused.
No… she was insulted.
I could see it in her eyes. I could see it in the way she tossed the ball back at me as if to say, "Come on, Grandma.  Take a lesson from me.  We're in this together.  Let me run while I still can.  OK?"
Each time I tried to give her the edge with the ball, she gave it back to me and then ran like the wind to get in the game. Maybe she didn't jump to the clouds, but she didn't mind…
Ryder doesn't want to be coddled.  Made to feel different from her siblings.  Old.
She wants to feel vibrant, happy, youthful… and she'll take care of what she can do.
She's OK with it.
This lesson is so clear, one that I will take with me for the rest of my life.  I'll take this lesson in the way I live my life and in the way I encourage other old gals to get out there and do what you can do.
I will take this lesson in the way I am with my own almost 87-year old Mom… sometimes feeling that I should jump in and tell her what to NOT do.
Animals are so smart, beautiful and perfect, aren't they!?
Little did I know 10+ years ago that my this new little puppy would fill my heart AND be a great teacher as we both age together…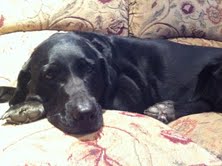 Oh, how I love my Rydie!