Mom Fashion Report: QVC Style Challenge with Joan Rivers Collection
Today's Day 2 of my QVC Style Challenge with some fabulous Joan Rivers accessories!
Joan Rivers QVC
I'm going to be honest with you right here – Joan Rivers is my jam. I am obsessed with these accessories. She's such a fashion icon and I love having these items to play with at home. I'm absolutely having a blast playing around with the items. I'm combining my Look of the Day with the QVC Style Challenge this week, so be on the lookout for the QVC items I'm working in! I didn't know Joan Rivers QVC items were this great!
It's Tuesday… I have a few meetings this morning and then I'm taking my 2 little guys with me to the mall this afternoon (and trying to beg my mom to join me!). I need to look chic and trendy, along with being in something ultra-comfy. I want to feel pretty and beautiful when I'm heading out, even with kids in tow! Usually I make sure the kids look cute as can be, so I want to make sure I look just as cute, too! Hey hey !!
I decided to wear the Joan Rivers Trendsetting Canvas Strap Watch today. I love the denim color and I thought it would be gorgeous with one of my silk dresses and boots. It's a great mix of classic and chicness. I'm telling you – I'm not a big watch wearer, but I do appreciate this adorable watch. It really does fit with this look and it makes me feel like it completes the look. Joan Rivers QVC watch is fantastic! They have other styles, too! Find one that works for you and you will love it!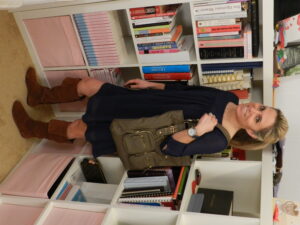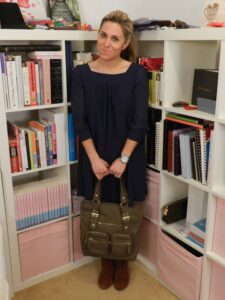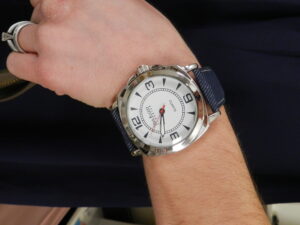 I wanted to show you a essential accessory could easily be worked into ANY outfit. I wear a watch every single day, and I think it's a great way to add some fashion-fabulousness into your daily fashion routine! I love this look because I do feel fabulous!! I have to say – I try hard to look my best when I head out. I want to feel good – you know – in case I bump into anyone, too!! Thank you to QVC for working with me on this amazing partnership. I love this so much!!! I feel fab and I'm ready to rock and roll the day!
Disclosure: I was sent the products to review from QVC as part of the QVC Style Challenge.