8/8/8 wasn't a good day for me, it was the day my Nana passed away.  My Nana was one of my best friend's and one of the biggest supporter's in my life.  Losing her really hit me hard.  There are still days I look to my phone to call her, only to realize… I just can't. It's tough, very, very tough.
There's one thing about my Nana that I had always known… the lady loved her birthday.  I mean, she LOVED her birthday.  Every single year we would celebrate with her — big and loud!  She passed away when she was 89 years old, and believe it or not, we were already in talks of how to celebrate her 90th birthday that upcoming March 9th.
Well, last night was March 9th and Nana would have been 93 years old.  So we did what we've been doing for the last 3 years, we went out as a family to celebrate NANA!  My father makes a reservation at Nana's favorite restaurant, a place called Jack's in Warren, RI… and anyone who can come, goes and celebrates!  We haven't missed a year!
It's a special night.  We all tell our favorite Nana stories.  We laugh.  We get teary eyed.  We celebrate her life, because we're all here because of her.  Last night was even more special for me because Matt came out, his first official outing since getting his tumor removed on January 29th.  Nana loved my Matt, so it meant a lot to me that he came out with us.  And you know what… by the looks of this photo last night, Nana was there, too.  Do you see the orb?  Ahh… Nana. 🙂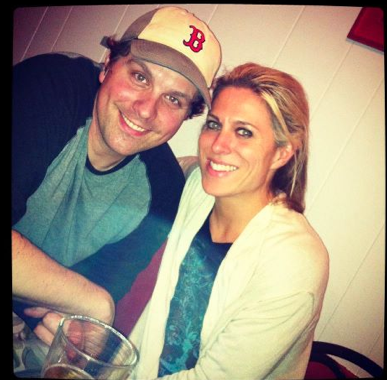 Happy 93rd my Nana!