One of my FAVE accessories for moms has always been a statement watch.
Something big.
Something noticeable.
I bought my very first "big" watch when I was in middle school. I loved how it looked, and it was a Swatch… and at that time, you couldn't get cooler. 😉
Now as a mom, my big watch style hasn't changed… at all.
I wear my Guess silver one all the time, and just invested in a gold colored Michael Kors one!! I bought it today and cannot wait to get it!!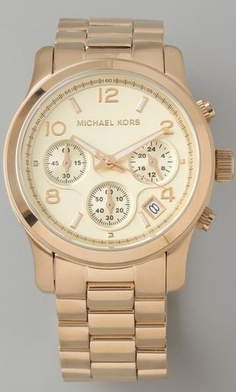 Inspired by timeless menswear, this water-resistant gold-plated stainless steel watch features a link band.
I know $250 is a bit steep for a watch… but I promise, you will wear this baby!
Who needs a mens shirt when you can get a mens watch. 😉