My grandkids asked me if I WON the 2012 Disney Princess Half Marathon… !
I've written about my runDisney Media invitation, my Princess Crown and my new title, Princess Grandma.
I've written about the incredible Disney Tangled Royal Family 5k and the heart-melting joy of the runDisney Kids' Races.
And now I'm writing about my Bibbidi-Bobbidi- Princess Half Marathon BLING that has my grandkids thinking that I *WON the Disney Princess Half Marathon itself…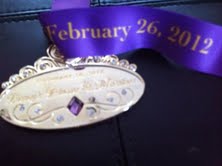 Well, kids, I didn't win the race (that was quite beautifully taken care of by Rachel Booth in record time), but I did win when I took my first step on that balmy Orlando morning along with 20,000 or so other winners, and I wear my BLING because I AM a winner!
It's such an incredible experience to explain to kids, especially grandkids, I think… how winning is beginning, at any age, even 59 and-a-half (halves are important under 10 and over 50!).
There is no age limit on the excitement of waking up at 2:45 am to get ready to be a Princess because you haven't been able to sleep all night anyway and to hop a coach to the Epcot Wonder Lot… and today is the day you're running 13.1 miles with thousands and thousands of other princesses through the parks at Disney World, right back to your own childhood fantasies of princesses, fairy tales and dreams come true…
Here I am at 3:30 am at Animal Kingdom Jambo House Resort with some "fellow" runDisney Media princesses Kim Bogin, Colleen Padilla and Brittany Lesser…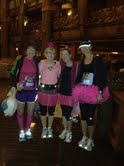 (Even at this early hour, note the smiles!  This is a day of smiles!)
There is no age limit on the magic of camaraderie of women (oh, and about 1,400 men) doing something so extraordinary with other women, no matter your age, size, shape, background, training, experience or level of running. Every single one of us walked into the race center as an individual and as part of a group – all winners before the run even began...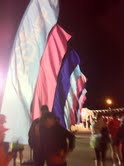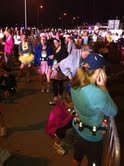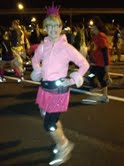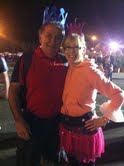 (Prince Barry/Grandpa found that spectating was a magical experience, too… and found his way to anywhere he wanted to be along the entire race!  More to come a bit later…)
I loved (did I mention loved) having access to tented Disney's Race Retreat (emphasis on TREAT), thanks to runDisney, where us "media" princesses and anyone who paid a nominal fee were able to beyond comfortably enjoy some breakfast, some drinks, a bag check, awesome & accessible portaJanes and settle into a warm pre-race mood of ahhhhhh!! (and, OK, maybe even a last minute what am I doing??)…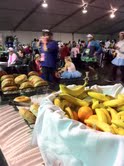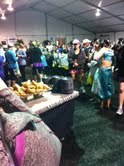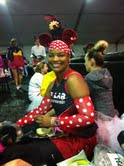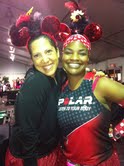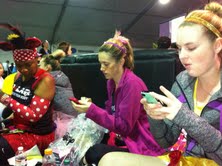 (friends above: Renee Ross, Lorraine Robertson, Colleen Padilla & Katye McNulty)
There is no age limit on making brand-new friendships with women that I, in all probability, would never have met.  One such new friend is Kim Bogin, a fellow runDisney Media invitee, a Mom, a wife, a writer, a runner and wonderful woman with layers and layers of awesome.  We walked together from the Race Retreat to the Race Start, which took about 20 minutes in the early morning mist.  We were surrounded with hundreds, thousands of women heading in the same direction… some with goals to achieve elite personal bests and some with goals just to finish the dream they had begun.
Just about 20 years, 2,000 miles and 1 hour of running 13.1 miles separate Kim and me, but as we walked and talked along together on our way to the Princess Start, I knew that bond that brings people together, women together, on this journey of running, journey of life, journey of stories that we share with each other… and that I get to now share with my 9 beautiful grandkids.  
One last good-luck hug before Kim headed to corral A, the fastest runners' corral, and I walked along the river of runners to Corrals B – H.
Once in Corral B, I felt that sense of OK, I am really here…
This was only my second Half Marathon.  My first, I ran 2 years ago.  I trained 12 weeks for that.  I did race a Half Ironman and a full Marthon since… but my heart was racing with anticipation, joy and maybe even a bit of fear.  I hadn't trained for a Half Marathon, but then this Disney Running opportunity magically came my way… and on and on and on…
Until I settled into the women around me… the groups, the friends, the sisters, the co-workers, the dreamers.  The Princesses.
But there is no age limit on 2 strangers in a field of thousands connecting.  A woman next to me and I began chatting up a storm.  Where do you come from?  Is this your first Princess Half?  Who's running with you?  Isn't this AWESOME?! Over the joyful noise and music, I learned that she comes from Michigan (I was born in Michigan!), this was her first Half, she had trained with a trainer and had a goal time in mind, she didn't dress as a princess this time, she wants to do triathlons, her sister began to train with her but was injured, and her sister was there as a spectator. And she loved my outfit…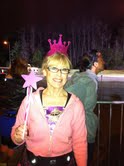 (I would be ditching the magic wand and sweatshirt before Mile 1!)
And oh, my… there is no age limit on the joy, majesty and magic of FIREWORKS as they illuminate the 5:45 am sky just for you, and 20,000 other Disney Princess Half Marathon runners…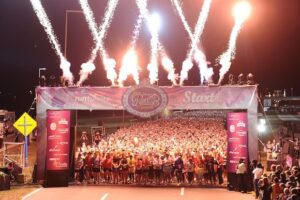 … and with my heart pounding and my feet taking flight, this Princess Grandma began her own fairy tale, clicking away at fun and fabulous Disney characters posing with happy, happy runners, and mile markers, all along the route…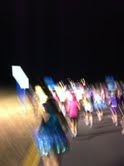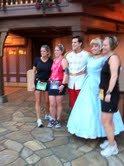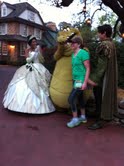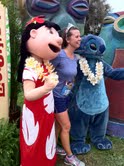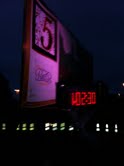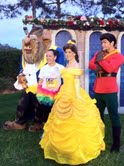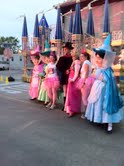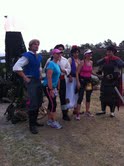 Oh, my… I wonder what, or whom, tempted ME to stop HERE for a photo…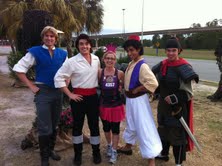 The course was filled with happiness, spectated by thousands cheering us on, completely covered in the drink/water/fuel/bathroom stops.
The course sang with music, bands, a choir that brought tears to my eyes, and wonderful entertainment.  There was even a Prince with a glass slipper looking for his Princess.  (Ha, that would not be this old gal!)
And anyway, my own Prince found me at Mile 4, Mile 8 and was waiting waiting for me at Mile 13.1 with a big smile, a giant hug and this…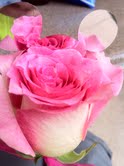 There is no age limit to the joy and accomplishment you feel when you begin a dream…
This is what I get to tell my 9 grandkids.  Winning is Beginning.
(*I did finish 88/517 in my Age Group of Female 55-59, and 5,597/15,803 finishers, with a time of 2:32:33.)
I can't wait 'til the next chapter in my fairy tale, too, as I board my royal coach to another runDisney weekend…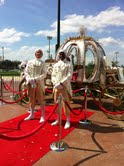 … bringing along my grandkids for the ride and races that memories and dreams are made of.
Hey. Can we all fit in that coach?