A little whimsy added to my Pink & Gray bathroom…
In my new home, there's a tight-fitting upstairs bathroom tucked into the eaves of the roof-line…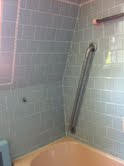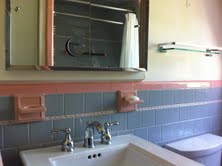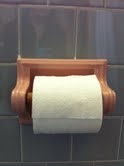 This bathroom is a statement from the 40's or 50's, and being a child of the 50's and all, you'd think that I'd love its Pink & Gray theme.  You know, in the spirit of Mamie Eisenhower's "Pink Palace" White House and all.
I kind of didn't like it at first, but the little space is growing on me; growing on me like Wild Pink Clover fills meadows and pastures with its lovely hues.
I have actually grown to love the Pink, Gray & White motif that dances around the tile of the entire space…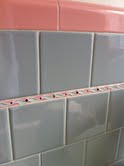 … with its little bows or ribbons or vines or whirligigs or whatever suits my imagination at the moment.
Someone, a very long time ago, took lots of time and love designing this little space of a bathroom with the latest, most hip and cool designs and hues… possibly getting some inspiration from the First Lady herself.
Somewhere along the line, the I'm-sure-were-here Pink toilet and sink were hauled away.  I wish they were still here to keep the tub company!
But the floor is intact.  A little worn for the wear, but Pink & Gray to this very day…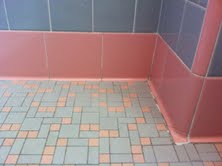 Yesterday, I headed out to shop for some pure, white, whimsical romance for this bathroom.  I picked up a couple of incredible bargains… a light, airy, gossamer-looking pure white window drape and shower curtain to add that touch of whimsy and romance to the retro.
But the Pink was calling me.
And I simply couldn't resist…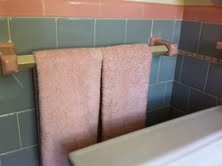 Barry and I are planning a major renovation of this space in a couple of years or so, but I'm already trying to figure out how to keep some of this history, love, Pink Palace bookmark of my very childhood.
I guess Pink has grown on me after all.