There's one thing my sons save their money up for… Nintendo games.
It's pretty simple, if they get money — they all pool it together and save up for something really cool.
I have to admit, I remember doing the same thing with my brothers and sister when I was younger.  We had the total "old school" Nintendo system and the Power Pad, we had the most fun together playing.  Oh, those Power Pad games got pretty down and dirty… super competitive!
I love seeing my sons play on their Nintendo DS systems because (simply) they're genuinely having fun.
Which brings me to this crazy-cool announcement… because I LOVE it when Nintendo bridges the world of gaming to sports.
The United State Tennis Association (USTA) announced today that Nintendo has signed on as an Official Sponsor of the SmashZone Mobile Tour, the interactive tennis fan attraction which introduces children to tennis in a fun and engaging way. As part of the agreement, Nintendo, the worldwide pioneer in the creation of interactive entertainment, will incorporate video game kiosks into the SmashZone experience throughout the duration of the tour.
The partnership will launch at the California Strawberry Festival in Oxnard, Calif., on May 19 – 20.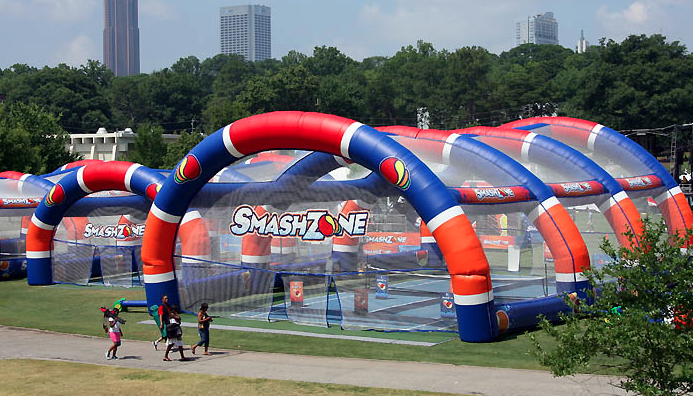 This year's SmashZone Mobile Tour will serve as a launching pad for Mario Tennis Open for the Nintendo 3DS hand-held system. Mario Tennis Open, a fun, portable tennis game that can be played in 3D without the need for special glasses, is scheduled for release everywhere on May 20, and this partnership provides an opportunity for an integrated fan experience where audiences can demo the new game.
SmashZone Mobile includes a 53-foot trailer, which anchors four kid-sized tennis courts for youth play. Courts feature games such as Xerox Rally Courts, Esurance Sweet Spot and Target Challenge. The trailer itself, which is handicap accessible, features interactive activities for visitors, including a TENNIS Magazine Green Screen Cover Shoot and touch screen kiosks. The Nintendo video game kiosks will be located in the game room of the trailer. Additionally, Nintendo brand ambassadors will be on site to provide hands-on demonstrations of Mario Tennis Open on the youth tennis courts.
"Video games can serve as a gateway to help get kids interested in real-life sports and activities," said Scott Moffitt, Nintendo of America's Executive Vice President of Sales & Marketing. "Mario Tennis Open features all their favorite Nintendo characters, and fast-paced tennis action that people will have fun experiencing."
In addition, Nintendo will be an Official Sponsor of Arthur Ashe Kids' Day presented by Hess, which will be held on August 25 at the USTA Billie Jean King National Tennis Center. The sponsorship will enhance fans' on-site experience by having in-person visits from Mario and Luigi from Mario Tennis Open and product demonstrations on the grounds during the free activity portion of Arthur Ashe Kids' Day.
"We are thrilled to welcome industry leader and innovator Nintendo as an official partner," said Kurt Kamperman, USTA Chief Executive, Community Tennis. "Their collaboration and support of the SmashZone Mobile Tour provides a tremendous opportunity to engage thousands of parents and children throughout the country."
And what about Mario Tennis Open which is released on May 20th… ?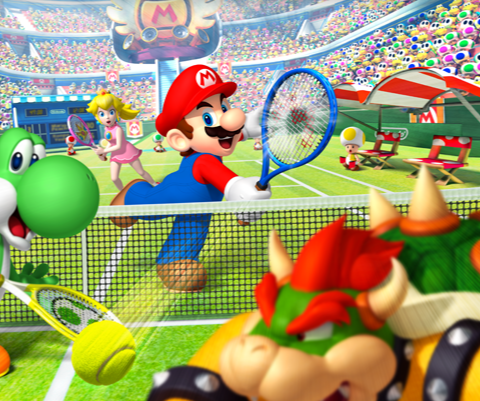 In Mario Tennis Open, Mario and his Mushroom Kingdom friends return to the court for a flurry of intense tennis action, from engaging singles and doubles matches to skill-building Special Games and online play. Using the built-in wireless features of the Nintendo 3DS system, up to four people can play together in local* or online** multiplayer modes and exchange player information via StreetPass. Players can choose between intuitive Touch Screen and gyro sensor controls or strategic button-based gameplay that delivers an even deeper experience. Players can also choose from a variety of playable characters or use their own personalized Mii character as they serve, volley and smash their way up the leaderboards.