I'm currently working with Tide on their Gold Medal Blogger Team right now and I couldn't be more excited and honored to be doing so!
Tide is doing an incredible campaign right now called My Story, Our Flag and they're asking everyone to share their red, white and blue stories. What does red, white and blue mean to you? It's different for everyone and a beautiful way to get everything excited for the upcoming Games! To share their red, white and blue stores on Facebook and Twitter!
Yesterday I had the opportunity to interview World Champion Cyclist Sarah Hammer, one of Tide's spokespeople. We're HUGE fans of cycling (my husband does some cycling), so as soon as they revealed who I was going to get to interview, I was extremely happy!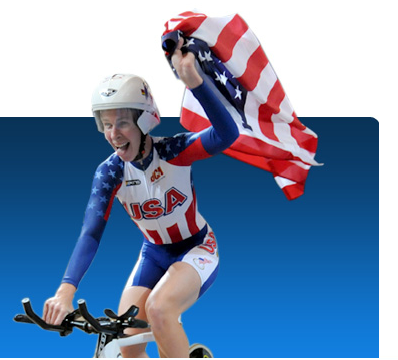 Sarah Hammer is a four-time champion (2006, 2007, 2010, 2011) in the individual pursuit at the UCI Track Cycling World Championships. At the 2008 Summer Olympics, Hammer finished fifth overall in the individual pursuit. She currently holds the world record in the 3000 m individual pursuit.
When I hopped on the phone with Sarah, immediately I was greeted with a friendly voice! She was so sweet and open to answering all of my questions.
What does red, white and blue mean to you?
It means pride. There's pride for me to wear the colors, a huge sense of pride. If it's my USA jacket or my uniform to compete, it's pride. I'm proud of what the colors stand for and I feel pride for the men and women who fought and fight for the red, white and blue.
What are you feeling as we lead up to the Games? Nerves? Excitement?
I'm feeling excitement! As it gets closer, it's starting to get bigger and bigger. I have some nerves, but I try to control them. It's just really just excitement for me to get there and compete.
I'm curious, do you ever get scared while you're cycling on the track?
I don't know if I get scared, it's more of a rush. I try not to think about getting scared because I like to focus my energy. But really, it's a rush for me.

How did you get into cycling?
My Dad was a racer and a local master racer. I used to tag along as a child to his races to watch him. We'd go out together as I got a little older. Finally I got a race bike that I had been wanting. But I started when I was about 9 years old and just loved it!
When did you know that you were different? And I mean that in the best way. When did you know that you could take cycling to an elite level?
I realized I was good at it when I was about 16 years old. I was in high school, but I was so focused on cycling and wanted to be so good at it. It was what I thought about all the time. I would wake up early to get a ride in. I just loved it and I didn't want to be doing anything else. I started to see good results when I was in high school and I knew I wanted to keep getting bigger and see how far I could go.
What is your inspiration?
For me, it's about pushing my body and seeing how far I can take this. That's what inspires me. And I'm inspired by my family. They love watching me and I love doing good for them.
What kind of training do you have to do to prepare yourself for racing? And, of course, for the Games?
I do morning and afternoon workouts. I do 4 different types of things:
1. Track training
2. Road biking
3. Gym training
4. Indoor trainer
I work out 6 days a week to keep myself in training mode.
OK, tell me what it's like having your husband as a coach. I work with my husband and I love it, what's it like for you?
It's very natural for me to work with my husband. We actually met as athletes at the Olympic Training Center. He gets it all, so it makes it easy for us. We do try to carve out time where there's no talking about cycling! But it's great to work with him because we get to travel the world together and be together.
And my last question, and this is from my sons, what is the name of your beautiful dog?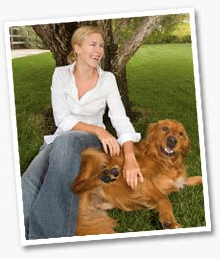 Awww… Dakota! Who has been right next to me this whole time!