There is magic in indoor plumbing…
So.
Last Friday, Barry and I closed on our "Retirement Cottage" on Hope Street…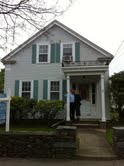 Ah.
But I must admit that the last thing I was hoping for was indoor plumbing.  ('Cuz that generally comes standard, yes?)
But.
Butt.
On Sunday, we discovered a small leak in a pipe in the cellar.  That old pipe would just happen to be coming from the upstairs toilet, sink and shower.  Seems the previous owners (remember the people I told you about who used this home as an infrequent summer home in the midst of a real community?) left the heat turned low enough to allow a little pipe freezing to go on.
Good times.
For obvious reasons, we could not use the upstairs toilet… but fortunately, we are still able to use the upstairs sink and shower because our plumber (fortunately, a friend of ours) said that a little clean water coming from the pipe into our very old, fortunately empty cellar would not hurt much.
Butt.
The downstairs half-bath with its little toilet is perfectly fine for day-time use, butt it's half-way across the world from our upstairs bedroom… not the bedroom Barry and I will use when we get all cleaned, painted, moulding-ed, stripped (floors, that is) and all that… but the bedroom we must use now as we go into Phase One of decor renovations.
You know what happens when you're old like me?  You have to use the bathroom during the night.  More than once.  So I've mapped out a trail for myself…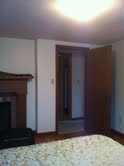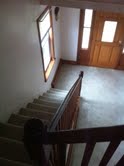 Except it's dark.  'Cuz it's night, and all.  And I'm not all that familiar with nighttime in my new home in my new neighborhood.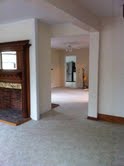 Past 6 windows.  With monsters and wild things looking in.  Of course.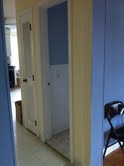 With 4 windows of its own… and more monsters and wild things in the night.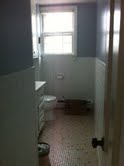 Then back. Past the 10 windows with all the monsters and wild things, me running up the stairs like an Olympic hopeful.
I've thought of just waking up Barry and making him come with me.
I've thought of a Port-o-John in the upstairs hallway.
I've thought of an out-house right at the front door.
Then I think of the Magic of Indoor Plumbing.
Toilets, in particular…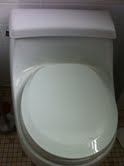 Ah.
I don't know if there's a luxury as, well… luxurious.
It's something not to be taken for granted.  Even if it means trekking on nighttime journeys past monsters and wild things.
Butt.
I am looking forward to getting that pipe to the upstairs toilet repaired.  Should be today.
Hopefully.
Otherwise, I've gotta get a little training in night-time monsters and wild things defense.