Mom Fashion: 5 Items Every Busy Mom Needs
As a busy mom of 4, I know it can be difficult to find the time to look fashionably fabulous every single day. If I have the chance to rise and shine before my sons, I usually get a good hour or so before they are up. I can shower. I can dry my hair. I can put on makeup. And I can take the time to pick out a great outfit.
(It doesn't always happen, believe me.)
I received a question from a reader that I am excited to blog about today…
I just had a baby 5 months ago and I am looking to update my fall wardrobe. What do you recommend for a busy mom of 5 who wants to look stylish without breaking the bank and spending too much time at it?
I love this question because it's the perfect time to head into some of my favorite stores and shops and score some fabulous Fall Clothing! I love finding pieces that I can reuse over and over again, but that are also affordable. I want to share 5 items that every busy moms need this Fall!
5 Items Every Busy Mom Needs this Fall:
1. Colored Denim – This is going to be a HUGE hit this Fall! Colored Denim is HOT and TRENDY this Fall, it's a great way to mix up your fashion routine. You can find them at many different price points, and it's important to make sure you shop around and find a price that works for you.
LOFT has a pair for $59.50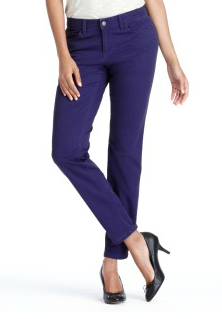 Coldwater Creek has a pair for $69.95

2. Scarves – The bolder, the better! Find some gorgeous scarves and wear them as your accessory of choice! I wear scarves all the time, I love mixing them up with different outfits and looks, it's fun.
The GAP has some gorgeous options for $29.95

3. Chiffon Blouses – I love a gorgeous blouse with a pair of jeans or trousers or a skirt. There are so many beautiful options this Fall, but Old Navy has some of my favorite right now. The blouses also have a unique print on them which also adds to the fashion factor.
Loving Old Navy's Blouses for $26.94

4. Pop of Color in your Shoes – I know.. I know.. this is a little out of a comfort zone, but I think it's an adorable shoe and it's a great way to add this burst of color this Fall into your outfit.
Lands' End has a great quality pair for $65.00

5. Stripes – Oh, yes! Stripes! Stripes! And more stripes! I recommend going after a sweater or a cardigan because you can get so much more life out of it! I found a cardigan at the GAP that I just fell in love with!
GAP cardigan for $49.95