In my house, it's not just one mess-maker… it's 4 of them: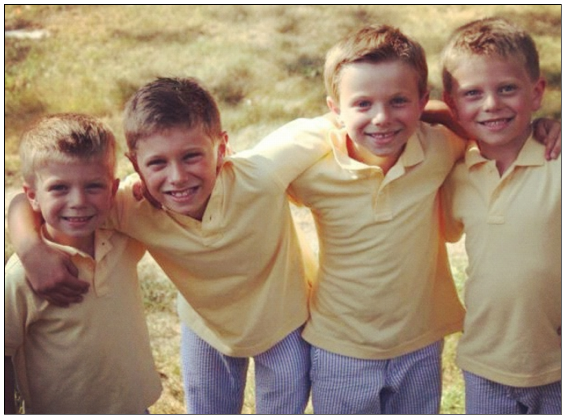 William
Alexander
Benjamin
Henry
They're awfully cute, but they awfully know how to make a good mess!
I don't know what it is, I try the best I can to eliminate the messes. I try to keep them on a schedule in the morning. Wake them up at a set time. Lay the clothes out before school the night before. Have homework and backpacks packed the night before, too. But for some reason in the morning, they all need to brush their teeth at the same time. They all need to do their hair at the same time. They all need to make sure they're dressed and heading downstairs at the same time. It's very cute, but it calls for a real crazy morning! The one good thing is, they're all down and ready to roll exactly at the same time!
The morning time for me is the toughest time for messes because if I don't clean them up immediately, they'll crust throughout the day. I like to get the messes when they're "new messes" (if that makes sense!) to make it easy on me and thanks to Windex® Touch-Up Cleaner, it's gotten a lot easier managing the messes.
Windex® Touch-Up Cleaner has been a lifesaver in the McClelland household. Even though my boys "try" to keep their rooms clean and playroom clean, they always seem to let the bathrooms and the kitchen go. I guess that's where I step in! I have been using Windex® Touch-Up Cleaners in my kitchen and bathrooms and have absolutely loved how they quickly and effortlessly clean up messes like toothpaste, hair gel, jelly and peanut butter and just about anything and everything else the boys get into.
As a busy mom, I appreciate the easy design and convenience of Windex® Touch-Up Cleaner… I can literally dab it, clean it and it's gone!
This is how easy it is:
We've also created a really cool inspiration page on the Windex® Facebook page called Windex® Shineboard for you to check out and participate on! Be sure to share your favorite tips and images from Shineboard on Facebook, Twitter and Pinterest.
Check it out and tell me what you think!