Daisy Meaning – 31 Days. 31 Flowers. Teaching kids about the Daisy… let's talk DAISY TODAY!
Literature, legends and art bloom with FLOWERS, from lovely little nursery rhymes to sophisticated epic poetry and great myths and masterpieces.  Knowing the names of flowers, the references to flowers, the symbols of flowers, the language of flowers gives kids a blooming head start in understanding literature and enhancing literacy.
Each day in May, a FLOWER will be presented here at 31 Days. 31 Flowers – 31 Ways to engage your kids in literature, literacy and life in just a few moments a day. Enjoy!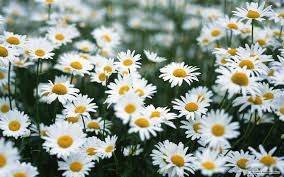 The DAISY – Some derivatives of the Daisy are Dayes-eze, Daysie, Dayesye and the total giveaway to the Daisy's meaning, Days-eye.
Daisy Meaning
Days-eye means, simply, day's eye or eye of the day; describing the appearance of the flower's yellow center disc in the morning and the closing of the flower's rays in the evening. The Daisy is the eye of the day!

The Daisy is a familiar favorite in both cultivated gardens and the wild, the wild perhaps edging out the gardens a bit for the happy dance the Daisy gives us from meadows, grassy hills, pastures, forests, roadsides and even bike paths!
The Daisy symbolizes childhood innocence and purity.  It was in Victorian times that young maidens began the little trick of plucking the petals from the Daisy in the hope of determining the true feelings of a suitor… the familiar he loves me, he loves me not.
Let your kids in on the lovely secrets and meanings of the Daisy.  Take a few moments each morning and each evening to see the day's eye open and close.
One lovely little line in Scottish orientalist John Leyden's (1775 – 1811) Scenes of Infancy is a perfect one to teach your kids:  When evening brings the merry folding hours, and sun-eyed daisies close their winking flowers.
Seek out the Daisy and now you know what Daisy Means. It will make your kids' day!