In May I wrote a post about how I really wanted to get pregnant. I'd had a very real dream that I had given birth to a little boy, but when I took a pregnancy test shortly after my dream, the test was negative.
But I actually was pregnant when I wrote that post – I just didn't know it yet because it was too early for the test to show it.
So many women offered me such great advice in that post – advice I was so excited to implement while trying to conceive! So I was truly shocked a little over a week later when I took another pregnancy test and saw this: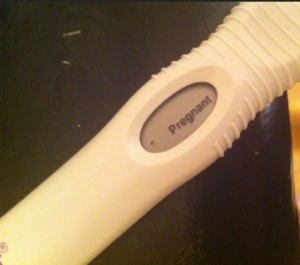 I had been celebrating my Dad's birthday at lunch with some family members, and I mentioned to my sister-in-law that my period was way late. She told me to take a test, but I told her I already had about a week prior, and it was negative. "Take another one!" she said.
So on the way to an appointment at my friend Leah's hair salon, I stopped at CVS and picked one up. I knew I couldn't wait until I got home, so I took the test in the bathroom at the salon. When I saw the word "Pregnant" pop up, I just stared at the test in disbelief. This was really happening!?!?
I considered waiting until I got home to tell Brian in some dramatic and fun fashion, but I am just too impatient. I had to tell him right away. So I texted him a photo of the positive pregnancy test and waited for him to call me. And waited. After a few minutes I gave in and called him, and asked if he had gotten my text. Turns out he was in a bad cell area, so it hadn't gone through yet. So I blurted out, "I just took a pregnancy test and it's positive!"
He had heard me complain so much about not being pregnant that it took him a second to process it. "Seriously!?" he said. Yup, seriously.
After that, I called my mom, my sister, my brothers and my sisters-in-law. And I told Leah, because I just had to tell someone in person! She knew I had been trying and was so happy for me.
Since it was my Dad's birthday, I figured I'd wait until dinner that night to give him the "gift" of the news. I bought a birthday card that said Grandpa on it, which I knew wouldn't throw him off too much because I always give him Grandpa cards from my dogs. But inside this card, I wrote: "I can't wait to meet you, Grandpa! Love, Baby Govednik"
He was shocked! And so excited. And my Mom got the whole thing on video.
What makes it even more special for me is that our dear family friend, Bill, was there for the announcement. He was so genuinely happy for me and Brian that night. Then, sadly, just last week, Bill passed away. He will not get to meet this baby here on earth, but I am so glad he was there that night to share in our family's joy. And I know he was, too.
Brian and I told a few other family members and close friends our baby news early on, and then finally shared it with the world yesterday, on our one-year wedding anniversary.
I am so excited to finally be a mom-to-be, and to add to this family of ours at the beginning of February 2014!