This post is inspired by [email protected], an initiative of the United Nations Foundation that educates, connects and empowers the championing of vaccines as one of the most cost effective ways to save the lives of children in the world's hardest to reach places.
During [email protected]'s Blogust, 31 bloggers, one each day in August, are writing about moments that matter. For every comment on this post and the 30 other posts, Walgreens will donate a vaccine up to 50,000 vaccines. Blogust is also part of a wider initiative proudly supported by Walgreens, the "Get a Shot. Give a Shot." campaign. Walgreens has committed $500,000 to donate up to 3 million vaccines for those kids who need them most. Beginning September 3 through October 14, when you go to Walgreens to get your flu shot, Walgreens will donate a vaccine to the [email protected] campaign. (*Subject to availability. Some restrictions apply. See pharmacy for details.)
Please leave a comment on this post, and in turn Walgreens will donate a vaccine to a child in need.  A child dies every 20 seconds from a vaccine-preventable disease. We can change this reality and help save lives, so please leave a comment here and share this post to any and all who'll do the same.
Sign up here for a daily email so you can quickly and easily comment and share every day during Blogust! Stay connected with [email protected] at www.shotatlife.org, join the campaign on Facebook and follow them on Twitter.
******************************
Back in the day (I love saying this phrase to my 10 grandkids!), I didn't personally know any women who took photos of their baby-abundant bellies. But something, something kept nudging me to do so with this baby, this baby who would be joining two older brothers and an older sister a few days after this photo was taken by my husband Barry, a photo that I've never shared until now…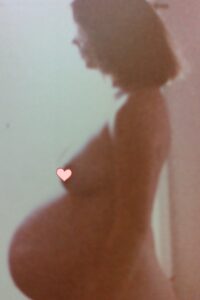 This baby is our Jane Hillary, the baby who would forever be our baby. This photo is the first milestone on the journey of our daughter, a journey of 30+ years, countless miles and stone upon stone upon stone of building the magnificent cathedral of her life.
Jane Hillary immediately lived up to her name: Jane, God's gracious gift and Hillary, cheerful one. Jane cooed and smiled and laughed at her siblings and her Dad and me.  She walked early, talked early, read early, danced and sang and began building elaborate theatrical sets for her theater presentations before pre-school. By Kindergarten, Jane was writing her own material.  She lived to love and loved to live…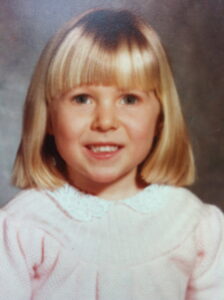 … always building, always building the cathedral of her life-journey, one milestone at a time.
Along the way, Barry and I talked many times of having another baby. But Jane nursed until she was 3 years old… and quitting was a milestone in itself, if you ask this Mama.  The night prior to her 3rd birthday, I sat Jane down and had a real conversation with her about nursing.  Her response was something like, "OK, I'm done."  Shockingly easy.
By then, life was rather easy with 4 children.  It was solidified. Jane was destined to be our baby and that's why I had felt  something, something nudging me to forever capture the baby-abundant belly that I'd never know again.
Our baby thrived, emotionally, intellectually, physically, socially. She excelled at school. She became a New England ranked swimmer, an All-Star Softball player and dreamed of playing drums, like her grandfather.  Milestone upon milestone of building, always building her cathedral. Soaring with curiosity, with confidence of life and surrounded with love…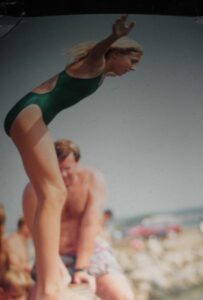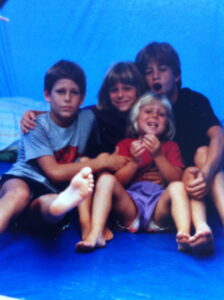 Always giving back, too – Jane's love of family, love of people, love of learning, love of writing, love of animals.  Charitable. Compassionate. Caring. At 8 years old, Jane (and her sister Audrey, but mostly Jane!) begged her Dad and me into rescuing two abandoned, abused, malnourished litter-mate puppies; puppies whom, for all intents and purposes, became children #'s 5 and 6…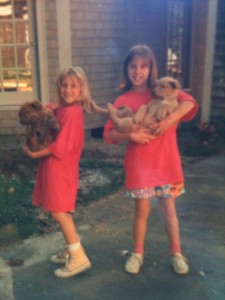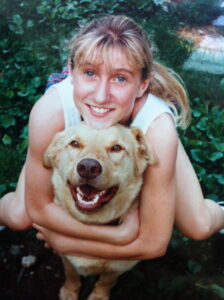 Jane entered her tween and teen years with all the joy she had felt as a child, and then some.  Enter complex school assignments, sports and extracurricular commitments, boys. Jane excelled. Jane was blessed with very nice boy-friends (remember, she has two older brothers who watched over her!), but even at that, couldn't escape a broken heart or two. I remember sitting with a sobbing, broken-hearted Jane and telling her to feel this broken-heart pain, to really, really feel it, because when it was over, she'd know that she could survive just about anything.  Young broken hearts are the most perfect milestones and building stones in a life-cathedral because the broken pieces mend with extra strength.  Jane would eventually believe me, because it's true.
Then. One day. Everything changed.
Jane had just turned 15 years old. She was a sophomore in high school.  She suddenly began suffering the most frightening moments of her life in what would be diagnosed as Anxiety Disorder. Out of nowhere. From nothing. To fear of everything.
Our curious, fun, active, loving girl had ceased to exist.
The cathedral walls were crumbling.
Milestones became staying in school all day. Or sometimes just an hour.  Milestones became finding safe refuge in the office of a caring, compassionate counselor or adolescent psychiatrist. These milestones were few and far between.  Milestones became discovering outdoor sports that didn't feel restricting or suffocating.
Milestones became seeing our daughter re-emerge through tiny, tiny steps – joining her high school *cross-country team rather than swim team or softball, even though Jane had never run before. Requesting extra course assignments – to make up for days absent from school.
Milestones became overcoming the shunning of "friends"- some of whom were cruel beyond words.
Milestones became finding the correct medications for correct diagnoses.
One great and important milestone that began the re-building of Jane's life-cathedral was one English teacher; one teacher who understood Jane's diagnosis and allowed her, encouraged her, to study the topic of Anxiety Disorder as her Senior Project.  Jane set about her research and work with a heart and mind of the Jane I knew…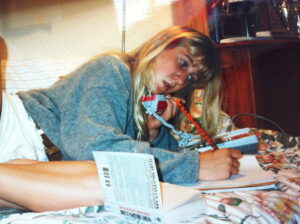 Each phone call, each interview, each word a milestone in recognizing this disease and hopeful recovery.
As Jane's mother, I didn't allow myself beyond one-day-at-a-time to think about the traditional rite-of-passage milestones of graduating from high school, going off to college, getting a job, falling in love and getting married, perhaps having babies of her own.
Milestones took own a whole new meaning for me, a meaning that taught me to be a better Mom, a better teacher, a better daughter, a better wife, a better friend, a better person.  Watching my baby struggle with tiny steps and moving pebbles rather than stones made me more patient, more compassionate, more tuned into others' struggles. Watching a lovely cathedral fall to pieces before your eyes is a life-changer, a call to hold and to lift up what's left with all the strength you have.
Jane finished her Senior Project.  Her English teacher was so taken by it that he encouraged Jane to submit the written anecdotal piece to teen magazines – to help someone, anyone, in the same situation. TEEN magazine responded immediately, offered Jane $300.00 (she donated the entire amount to a local charity) and published her piece in its February 1998 edition…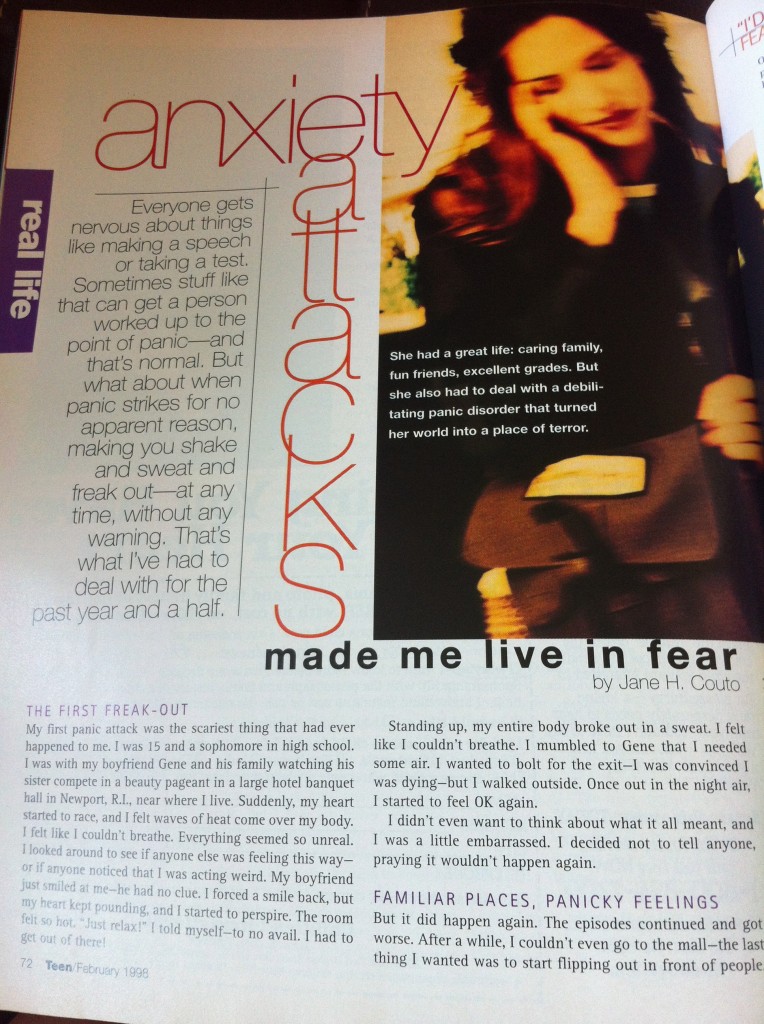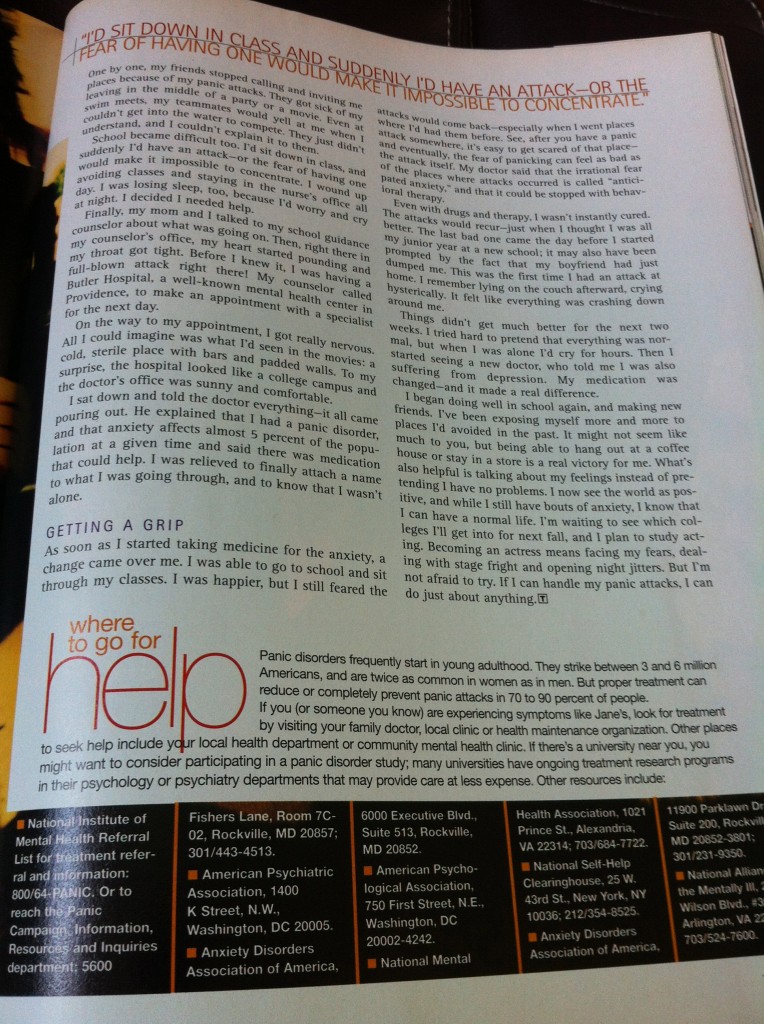 With time, family support, the correct physician/counselor fit, correct diagnosis, correct medication/therapy, prayer and her catharsis in print, Jane emerged strong and confident, ready to explore life's possibilities.  Her cathedral stood ready for new milestones…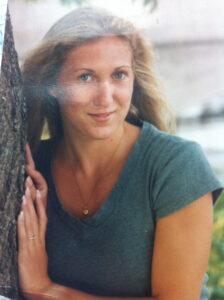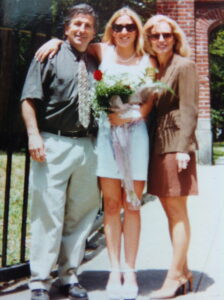 Fifteen years later ~ Jane has built cathedral facades, aisles, crossings, transepts, cloisters, choirs, walls and choirs that touch the sky!  Milestone upon milestone upon milestone and so many more to come.
She graduated from Brown University with a degree in American History.  She's fallen in love. She's fallen out of love. She's broken free from a couple of crapmasters (I just made that word up. I like it, so I'm keeping it.)
Jane, her sister Audrey and I co-founded our website Mom Generations. We each have our own voice, writing our own content, about our own journeys and the things we love, while keeping our collective centers in one place. It's a wonderful job.
*She's qualified for and run Boston Marathon, twice (lemonade from lemons!).
Jane turned 30, a rather huge milestone in itself.  Yes, my baby turned 30, one milestone at a time.
Jane found her perfect man and he found Jane… at a running race, no less (yes, that high school *cross-country running changed the architecture of Jane's life-cathedral), and they were married last summer –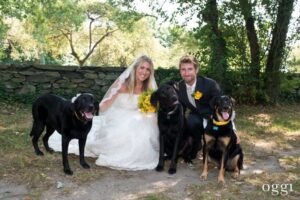 Jane's love of animals, her work with humane societies and her rescue efforts continue as her passion…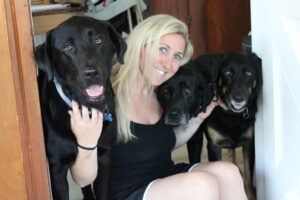 And perhaps the greatest milestone of all is happening to Jane and her husband Brian right now, as I write this post…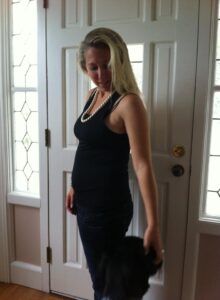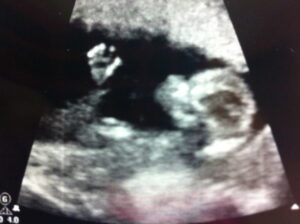 Their baby.  My baby's baby, due in February 2014.  Our grandchild, waving at us from my inside Jane's growing Baby-Belly.  And when Jane's belly is abundant with baby, I'm going to photograph her belly in all of its fullness of life, for her forever moment, her forever milestone with her baby.  Just like my photograph with her, the one I've never shared 'til now because it wasn't yet time. It's going to be an emotional, circle-of-life moment for my baby, my baby's baby and me.
Then I will watch my baby watch her baby grow in strength and wisdom, building his or her own cathedral, one milestone at a time.
I don't take milestones or moments for granted.  I cherish them as gifts, as celebrations, as miracles even… the tiniest, seemingly insignificant ones to the traditional rite-of-passage life changers.
I believe with all my heart that each child in the world deserves the miracles of moments and milestones. This is why I've partnered with [email protected] and its Blogust campaign, an initiative of the United Nations Foundation that is providing vaccines for children in some of the world's hardest-to-reach places. In writing about my daughter Jane and her journey of milestones at turning 30, I'm cognizant that so many other children will never have the chance at good health, curiosity of learning, soaring happiness or family support without our help. I would love you to help these children and to make sure that families have the beauty of watching their children build their cathedrals along their journeys.
Again, I ask you to please leave a comment, even the tiniest comment, on this post and in turn Walgreens will donate a vaccine to a child in need.  A child dies every 20 seconds from a vaccine-preventable disease. We can change this reality and help save lives, so please leave a comment here and share this post to any and all who'll do the same.
Can a comment make a difference? With Blogust, it can. Each day we will bring you a personal story about moments that matter. Every time you comment, you will unlock a donation to purchase a life-saving vaccine for children around the world who need them most.  Please, please leave a life-saving comment today.
Please.