Grid Foam Roller – makes it hurt so good…
Come on, John Cougar Melloncamp – sing it to me…
Hurt so good
Come on baby, now
Come on baby, make it hurt so good
Sometimes love don't feel like it should
You make it hurt so good
… even as I writhe in pain.
And ecstasy.
It's this little 13 x 5″ bugger (no, this isn't an x-rated post, silly) that's sinking its teeth right through my bones, baby and making me sing right back…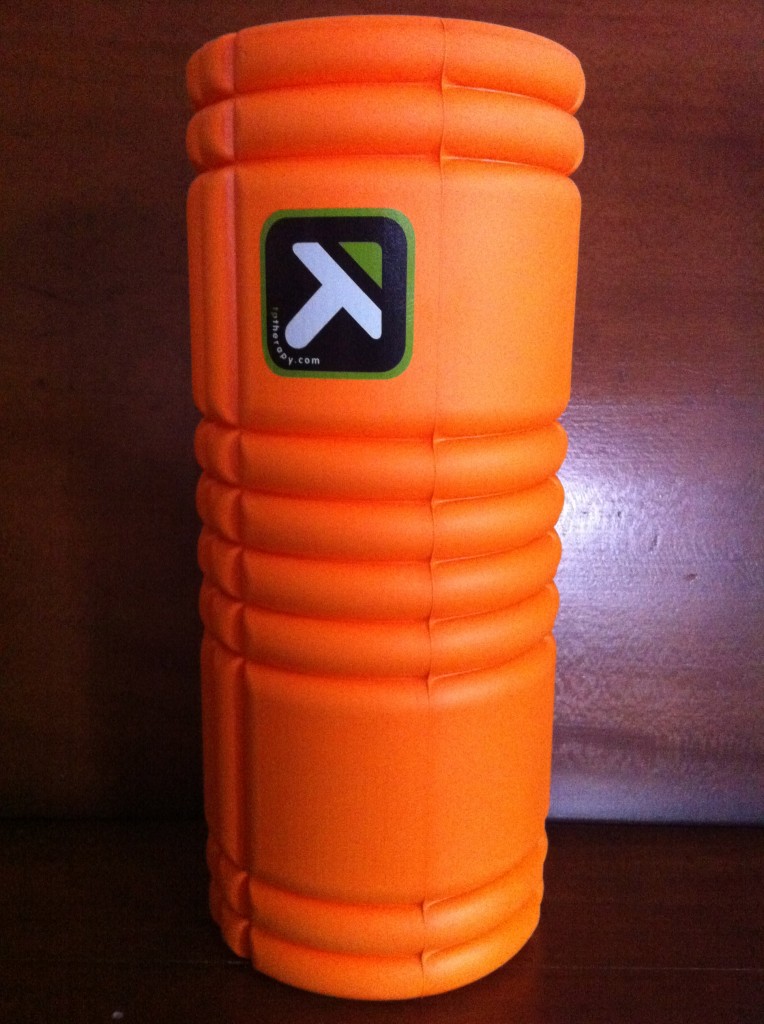 Let's see what we can do – Grid Foam Roller, baby
Come on and make it hurt so good.
When I began running 5 years ago, I had a 1950's mentality about the whole running thing. You put on a pair of sneakers and go run outside. Like I did as a kid in the 1950's.
Well, you can do that. Heck, I did do that for awhile. But there's so much knowledge and technology and science to this running thing that may seem overload city sometimes… but really are ways for runners and athletes to stay healthy, strong and longevity safe.
Five years later, I know lots of things about running shoes, clothing, gear, apps, technology, training and injuries. Ah, injuries. But even so, while training for 2012 Marine Corps Marathon, I hurt my left calf muscle and ran through it and took my injury to Marine Corps with me. All 26.2 miles. Not good. It took weeks of physical therapy at my Shangri-La, Foundation Performance Sports Medicine, to get me back into shape to run again.
But I also know that getting in shape and staying in shape to run means that this Grandma must stay strong. Enter my 21st century mentality and the Foundation Performance RUNstong 6-week class I joined:
RUNstrong
A 55 minute circuit style strengthening class aimed at making you a better, less injured runner. The class is broken up into three phases:
Foam rolling: Gets the knots and adhesions out of the legs and increases flexibility making your muscles more effective for exercise.
Dynamic Warm-up: Gets the heart rate up, increases internal body temperature, and gets you ready for the workout.
Strengthening: Core, back, leg, foot exercises to help minimize the muscle imbalances seen in runners. These exercises are proven to be effective in warding off injuries and fixing dysfunctional movement patterns.
And enter… yes, the Grid Foam Roller.
Oh, baby.
I had never used a Foam Roller, never mind one with Distrodensity Zones (that would be why John Cougar Melloncamp sings to me while I use this thing).  I had never massaged my lats, quads, calves, hips, glutes in such a totally tubular way, dude – medium & tubular, high & firm, low & flat.
I didn't know that I HAD places that needed Distrodensity massages to get out my knots and adhesions.
But I do.
John Melloncamp knows I do.
That's why he sings his song to me each time I use my new best friend of running…
I ain't talkin' no big deals
I ain't made no plans myself
I ain't talkin' no high heels
Maybe we could run around
All day long
 Run around
All day long…
'Cuz it hurts so good.
Now you can #SeeGrandmaRun better!
********************************************
The Grid Foam Roller was recommended by my RUNstrong class instructor and is something I use because I'm in love with it. I was not compensated in any way for my opinion.