Fisher-Price Little People Disney Princess Klip Klop Stable is a toy that my sons saw and said to me, "MOM! Victoria would love this!" I love that they thought of her immediately when they saw the Disney Princess Klip Klop Stable! She's still such a little baby, but they're already getting the PRINCESS thing down! And (honestly) I love it so much!
Disney Princess Klip Klop Stable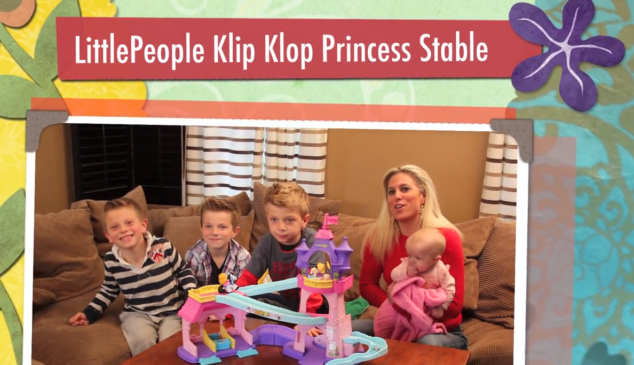 With a daughter in the house, I'm excited to be having some girly-girly toys in the house. I'm not kidding for the last few years, I've only had these types of toys in my house: 1) Star Wars 2) Cars 3) Dinos 4) Trains 5) Planes 6) LEGOS. I'm telling you – I never ever thought that princess items would be in our house someday! It thrills me to have some of these toys at home because it's just fun to have a little POP of PINK!
Fisher-Price Little People Disney Princess Klip Klop Stable Video Review:
About Klip Klop Stable:
Your little one will bring the much-loved Disney® Princesses, Rapunzel and Aurora, and their trusty horses to life with this beautiful play set. There's so much to make happen! There are two royal areas –the 3-tiered tower and a horse stable – and each is loaded with special rooms and surprises to thrill little imaginations. There's a colorful ramp, too—place the horses on it, give a little nudge and they "klip-klop" down the ramp all on their own!

Includes Rapunzel character riding Maximus, and Aurora riding Samson
Horses exit their stalls and "klip-klop" down ramps on their own!
Includes Royal stable and food bin, kitchen, plus Rapunzel's Royal tower with dressing room
Includes Belle's library, courtyard, and dance floor
Includes lots of fun sound effects, phrases and songs
Spinning thumbwheel starts music and makes the horses "dance"
Lots of play on all sides!
As you can tell from this video, my sons LOVE it! LOL! I think it's so great to see them loving the toys that we're bringing in for Victoria! Fisher Price has always been a brand I love. Little People has always been a BIG hit at home! And now PRINCESS!!?? YES YES YES!! It's a fabulous toy and worth it!
Check out our review of the Fisher Price Little People Musical Dancing Palace.