November 18th and a Fun November Fact…
At noon on November 18, 1883, the large railway systems in the United States and Canada adopted Standard Time. 
Standard Time is defined as the official time in a local region, adjusted for location around the Earth, established by law or custom.
Why is Standard Time necessary?
TIME measured by the position of the sun and/or mechanical clocks became difficult with the invent of railroad travel.  U.S. Time zones were introduced in 1883 to standardize railroad schedules… giving advantage to both travel and communication.
Standard Time and its history is more complex than railroads, travel and communication, but kids love the concept of TIME,  from the sundial to steeple clocks to longitudinal meridian to light-sensor-touchscreen wrist watches and everything in-between…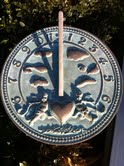 Give your kids/grandkids the gift of TIME today as you teach the meaning of STANDARD TIME... whether they are in your time world or all the way across the world!