Fun November Fact – On November 22, 1497, Vasco de Gama sailed around the Cape of Good Hope…
A whopping 516 years ago today, on November 22, 1497, Portugal's Vasco da Gama became the first navigator to sail around the Cape of Good Hope in  search of a sea route to India –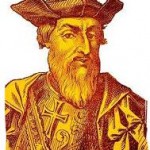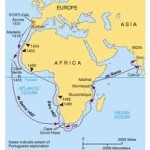 Vasco da Gama's successful voyage opened profitable trade routes from Europe to India, particularly for spices, that changed the course of history.
Take a peek at the history of ships and navigation to give your kids/grandkids an idea of what explorers like Vasco da Gama faced when setting out on a journey. As this website explains: 
Getting there involved danger, technical skill, patience and courage. We may well look back on these men and their exploits now and consider them romantic. However, being stuck on a leaky, wooden boat for months (sometimes years) on end, on a diet at times of only dry beef and biscuits, wouldn't be much fun. You might have to drink putrid water and sleep with filthy companions in over-crowded between-decks accommodation which you shared with everybody else; well, – that's not anybody's idea of a good time.
Although de Gama's exploratory feat was remarkable and historically important, decide for yourselves whether this kind of exploration would be a good time (especially the filthy companions part)! Ha!