I had such a great time yesterday celebrating my 33rd birthday! Birthdays have always been a big deal in my family – growing up, my parents made it a tradition for me and my three siblings to wake up on our respective birthday mornings with a bunch of balloons in our bedrooms, the number of balloons corresponding to how old we were turning. Birthdays were always about celebrating with each other rather than just getting presents.
It's the same way for me now. My parents may not bring me bouquets of balloons anymore on my birthday morning (Brian has taken over in that regard!), but they still make my birthday so special.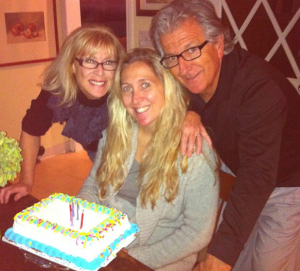 Each November 4th, I most look forward to spending time with Brian and my parents (and any other family members who might be available), and the phone calls I get from my siblings, nieces and nephews. Their Happy Birthday choruses over the phone can't be beat!
Last year, as I turned 32, I wrote about how I was ready to be a mom. After several years of being "of child-bearing age," the time finally felt right. I said that Brian and I would be trying to start a family sometime in the spring or summer, and we were so fortunate to find out in June that we're expecting!
Knowing that we'll be welcoming Brian Jr. in just 3 months made this birthday even more special to me. And as an added bonus, the night before my birthday, for the first time, my husband Brian was able to feel baby Brian moving around in my belly. (I've been feeling the baby for the last month or so, but he would never cooperate when Brian tried to feel him moving, too!)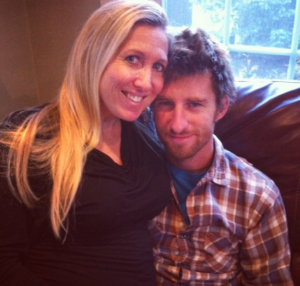 Now I'm look forward to using that pre-natal massage and facial gift certificate that Brian got me for my birthday. And spending some of my birthday money on baby things. Oh, and of course, finishing off the Carvel ice cream cake. 🙂