Mom Fashion Pin of the Day: Get the Look – Sequins, Skinnies and Heels!
I started my Mom Fashion Blog 5 years ago because I felt there was a need for mom fashion advice. So many of us were "hot" little fashionistas in our pre-mom days, and it's been tough keeping up with the fashions/styles/trends since we became mothers.
Many of us have been getting fashion inspiration from Pinterest, which is awesome because there's TONS of fashion ideas every single day that are pinned and re-pinned for everyone to see! I'm a pinning machine… literally. I love it.
I'm going to share a Mom Fashion Pin of the Day every day and I'm going to share where you can GET THE LOOK.
First up!? I know every mom can pull this look off – sequins and skinnies. Don't tell me you can't! This outfit is chic, trendy and totally-awesome…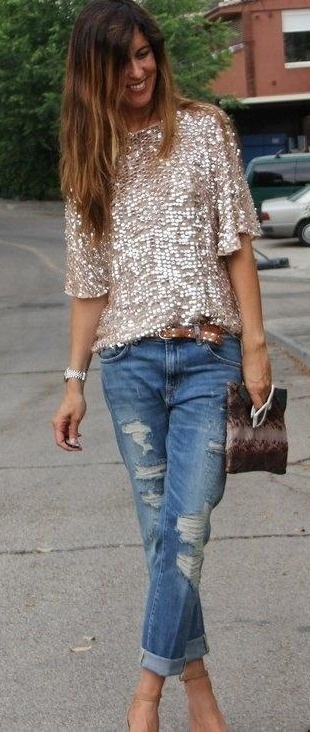 Pin from HERE.
GET THE LOOK:
Sequin top – JCPenney – $34 // Jeans – American Eagle – $39.95 // Brown belt – Express – $17 // Nude Pump – DSW – $49