Link-up: 10 Things I Won't Apologize For….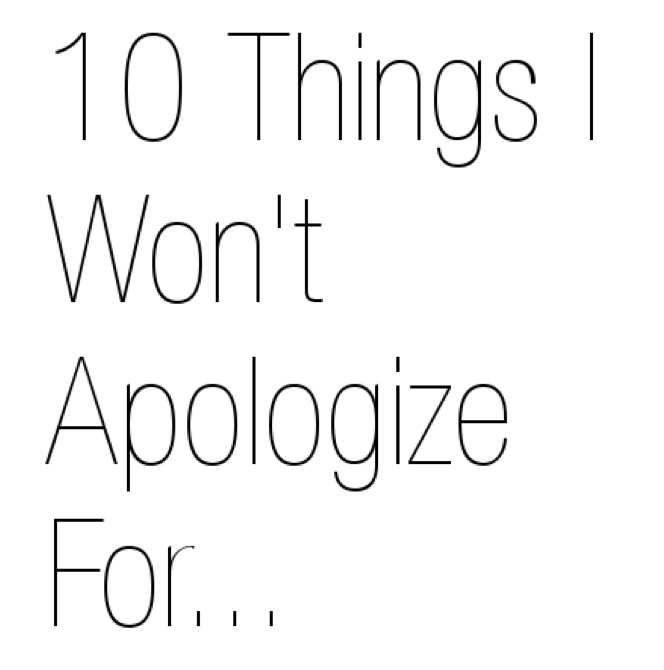 Are you ready?
In NO particular order…
1) My LOVE of Hallmark movies – YEAR ROUND. Not just the incredibly cheesy Christmas ones, I mean the ones ALL year – you know, the ones that star Haylie Duff. 🙂
2) My OBSESSION with the Housewives franchise. And yes, if they had a Housewives show in Rhode Island, I would PLEAD to be on it.
3) That I worry constantly about my children. I mean, much more than a "normal" person. Truly.
I used to be embarrassed abut it, now I don't care what people think. They're my kids and it's how I am.
4) My fear of elevators. I hate them. I take the stairs whenever I can.
5) Spray tanning. It is my zen. It is my yoga.
6) The fact that my house isn't organized. LOL… I used to apologize every time someone entered my house, now I just say… "I have 5 kids and I work from home… "
7) That my sons all have iPads. People thought we were CRAZY last year getting them each one. BEST. GIFT. EVER.
8) That I'm obsessed about losing my phone. It's like a 6th child. I panic if I can't find it for like one nano second.
9) That I obsessively use Twitter, Facebook, Instagram, Pinterest and YouTube… not only is it my job, I LOVE social media!
10) That I refuse to be photographed on my right side. 🙂