Acknowledging the Caregiver with thoughtfulness, knowledge and love ~
A few weeks ago, I discovered through my grandchildren just how much children notice how we care for people around us, for people we love.  My 5-year old grandson Henry thanked me for taking such good care of my Mom, his great-grandmother, and for making her strong again after her recent serious injury.
My heart danced.
Henry sees Caregiving in us taking Grandma Rita to our local creamery for ice cream Sundaes while she admires his crayon masterpieces; or to Dunkin' Donuts for a coffee and a cinnamon raisin bagel while sitting in the sunniest window and Grandma Rita laughing at his new knock-knock jokes.
Henry and my 9 other grandkids see Caregiving in holding Grandma Rita's arm while she maneuvers her way around the furniture in my home or the uneven grass in my back yard. They also see Caregiving in me sometimes missing their events to take care of my Mom. They understand.
At nearly 89 years old, my Mom needs my care daily. I prepare and deliver most of her meals. I take her to every appointment, take meticulous notes and arrange for my husband or children to take her to the supermarket or to her standing (every Wednesday morning!) hair dressing appointment if I cannot. I take my Mom out to breakfast, lunch, delectable treats and/or dinner as often as I can, giving her fashionista side a nice reason to get up, get dolled-up as she says and out into the world. I decorate my Mom's apartment door for each season, I often take care of her laundry, I take out the trash and re-cycling and am known on a first-name basis by most of the other senior citizens in her complex.
I am my Mom's eyes, ears, hands and heart.
But I'm also a member of the new Club Sandwich Generation, and this life of loving and caring for 4 generations of people has required that I learn the act of juggling. There are sometimes so many balls in the air with my Mom, my kids, my grandkids, my husband and my work that I can't see the sky. I am by nature a very organized person, but lately have found myself scribbling to-do notes and lists on random pieces of paper, losing those notes and lists and dropping the balls like a circus clown – but it's not funny. It's not me.
This juggling has interfered with my personal personal life, too. I run for exercise, freedom of thought and fun, but recently hurt my back and neck and had to take off 3 weeks. My physician and physical therapist say the same thing – let some things go. But what balls do I let drop?
Well, yesterday my two daughters, Audrey and Jane, gave me an early Christmas gift – one that's filled with not only love and understanding, but a gift that acknowledges the core of my Caregiving of my Mom, which is giving. It's a very simple gift, a very slender gift, but a gift that centers me, my life, my organizational needs and yes, my frugal side, too.  It's a gift that spreads my life into 4 generations like hot fudge on vanilla ice cream.
It's a gift of thanks. To me. For what I do. Every day…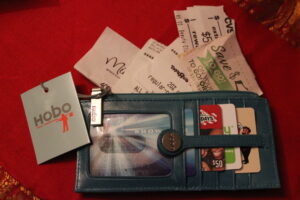 It's a credit card holder, aptly from Hobo (what I've been feeling like lately) – but Audrey and Jane didn't fill it with credit cards (ah, ha!), but rather gift cards and rewards cards to places I especially love to take my Mom; but my grandkids, my kids and husband and/or friends, as well.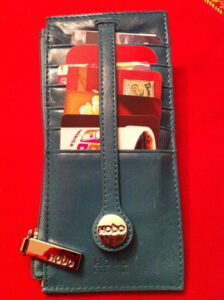 It's got front and back card storage and a zippered center for my on-going to-do lists and all of those soon-to-be expired coupons that I've been prone to losing or not using.
And it fits into even my smallest, most favorite pouch pocketbook with the ease of swiping a gift card!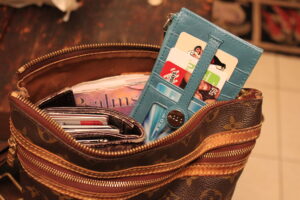 This gift may be small, slender and as simple as slipping some Newport Creamery, Dunkin' Donuts, Pinkberry, Showcase Theater gift cards or Chelo's and Greggs' Restaurant rewards cards or Babies "R" Us, Michael's and CVS coupons into a credit card holder – but it is one of the biggest, most heartfelt and knowing gifts I've ever received.
This gift is my daughters' acknowledgement and thankfulness for my life and my love as a Caregiver…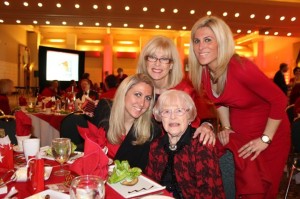 It makes me strong again.
That simple.
Please remember to acknowledge and thank a Caregiver today. It will mean the world… and maybe even a Pinkberry treat!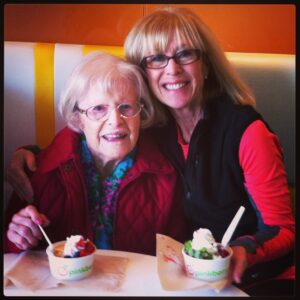 Now I'm off for a run – but not in my juggling costume and clown shoes!
***********************************************
As a Caregiver, I turn to AARP.org/Caregiving for questions I have in the care of my Mom – from daily care, housing options and legal advice to medical features, a vibrant Caregiving community and the important topic of caring for the caregiver. Those of us who Caregive are not alone, although it may sometimes seem so; and sometimes the best days turn in a heartbeat to the most challenging days. AARP has provided us with a strong community of experts for all of our Caregiving needs, with lots of welcomed help and advice.
I also turn to AARP.org for myself, for its front-line advocacy, information and service.
Sharon Couto is a member of AARP's Blogger Kitchen Cabinet on #caregiving, #caresupport, #carekc issues. All opinions are her own.