Famous Last Words – Part 3: "Just this one time."
You'd think I'd have had enough Famous Last Words for a lifetime with my Bret Michaels supermarket run and practically naked milk store visit.
But no.
I'm beginning to see a pattern in myself here in not thinking things out to the nth degree, but rather thinking in simple terms.
Simple phrases.
I won't bump into anyone I know.
I'll only be out for a few minutes.
What I need to add to these little phrases is: UM. NO.
Which brings me to to this morning.
An unsuspecting grandson.
And school photos.
Yikes.
The morning began innocently enough. Barry and I had Audrey and Matt's 4 boys overnight… as the parents had a very early appointment in Boston with Victoria. Of course, no morning at our home with grandkids is complete without Pop-up's Famous Pancakes, and this morning was foggy with a really, really good chance of pancakes –
We all got up early enough (6:00 am early) so as not to rush like crazy on the first Monday back to school after Christmas vacation, and we all had plenty of time to enjoy breakfast and even work a bit on the Rainbow Loom.
Things were early-morning perfect.
Then came the teeth-brushing and getting dressed and packing up and off in time to arrive at their school by 8:30 am. The drive from my home to their school is just about 45 minutes down Rt. 95 South with no traffic, so I figured a good hour+ travel in the morning rush with dense fog and all.
I was feeling rather pleased that Barry and I still had it in us to get 4 kids up, fed and off to school without a hitch.
Until the hitch presented itself.
There was this little thing about 8-year old Alex not really, really loving what Mom had packed for him to wear to school.
It wasn't like he was all over this thing with I'm not wearing this. None of the boys are like this. It was more, "I don't like these pants with this shirt."
Alex knows what he likes. Audrey and Matt know that Alex likes what he likes. Barry and I know that Alex likes what he likes.
He likes to look good.
And this light gray Steelers shirt and light gray sweatpants weren't doin' it as a combination.
OK.
Barry suggested trading pants with William or Ben, since the boys often have this versatility.
No problem.
Except that their pants were light gray, too.
Alex wasn't the least bit upset enough to not wear his clothes, mind you… but you know grandparents, and Barry suggested that I go find a different color shirt in my mega storage of grandkids' stuff for all occasions and every emergency.
Great idea.
I found a green shirt that I thought was a summer swim team shirt left at our home after some family gathering or other.
Same color.
Alex took one look at it and loved it.
He loved the back of the shirt…
… with all the companies listed.
But I was thinking this isn't a swim team shirt.
Then I saw the front of the shirt as Alex pulled it on…
Oh, boy.
A racing shirt from one of my very favorite races, with the words emblazoned across the front FINISH FOR A GUINNESS.
To wear to second grade.
Oh, my.
That's when the Famous Last Words ~ Part 3 popped into my head: Just this one time.
No big deal.
Right?
Maybe no-one will notice. Like not Alex's teachers. Nor principal.
Or Mom & Dad when they pick up Alex from school.
He loved the shirt. He didn't read the front. He just loved the shirt.
Oh, God.
Pile the kids in the car and let's go.
Which would have been kind of OK.
But for the text Audrey sent as I was about 15 minutes into our journey to school, in traffic, surrounded with fog…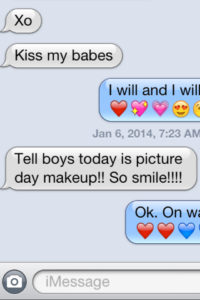 "Tell boys today is picture day makeup!! So smile!!!!"
It all began to go south from there.
And I'm not talking Rt. 95 South.
It seems that School Photo Day had been rescheduled for TODAY and Audrey had just received a text from a teacher reminding parents.
What?!
Alex in his second grade school photo FOREVER immortalized in FINISH FOR A GUINNESS?
Just this one time took on a whole new eternity.
Sweat began to pour from my brow.
My straight bangs began to curl.
I needed a plan.
And fast.
I said as calmly as I could (my sweaty palms slipping all over the steering wheel), "Hey, guys. It's school photo make-up day! SO. I think I'll head to your house so Alex can find a really nice shirt!"
A weak this oughta do it was floating around in my head.
I knew I had to beat the traffic and the fog to make this work.
As Alex was saying, "I like this shirt, Grandma!"
"You know, Honey… maybe a shirt that isn't so casual. For a school photo."
(And from inside my head, )… "One that Mom and Dad and your teachers and principal and school photographer won't think what was she thinking?"
I made it to their home with two minutes to spare before being late for school and ran to unlock the door and sent Alex to his closet to pick out some photo-worthy shirt while dying…
Dying.
Sweating.
Profusely.
They're gonna be late for school.
Then what?!
I don't know protocol for that.
I don't do late.
Alex found a perfect dark gray shirt and I whipped the GUINNESS one off and pulled the gray one on and we were off.
Not one moment to spare.
We made it to school just in time for me to snap a photo for Mom & Dad in Boston…
My 3 handsome guys.
All ready for 1st, 2nd and 3rd grade forever school photos.
With plenty of time to get Henry ready for afternoon Kindergarten photos.
Thank you very much.
Holy shitballs, that was close.
Just this one time!