Amazing giveaway, right?
But what's EVEN more amazing is why I'm giving one away.
This giveaway of a brand-new Kindle Fire tablet from Pixelberry Studios is meaningful because they are the creators of the socially impactful video game High School Story. High School Story, which just launched on Kindle devices, is a fun and educational mobile game played by millions of teens that lets them build their dream high school experience from the ground up.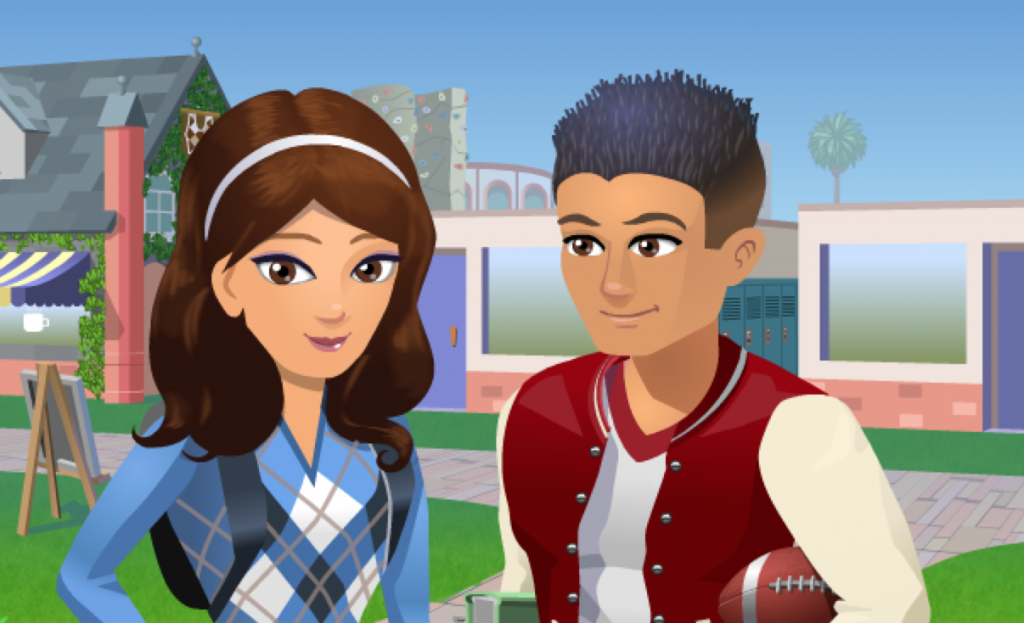 THROW PARTIES to unlock over 30 characters!
DATE your crush and play matchmaker for everyone at your school!
BATTLE a rival high school in an evolving story, including a showdown at the Homecoming game, a science fair, a prank war, and more!
PUT YOUR FRIENDS in the game and join them on adventures, dates, and parties!
MAKE NEW FRIENDS and play their stories!
BUILD your dream school and decorate it with everything from a half-pipe to a box of puppies!
CUSTOMIZE your look and choose your clique!
PLAY FREE… with tons of free updates coming soon–including more characters, more stories, and more romance!
Pretty cool, huh… teens get to actually create their dream high school experience.
As you know, cyberbullying is a serious issue facing many children. Every year, one in six American teens is cyberbullied, according to the CDC.
That statistic is mind-boggling to me.
My sons are in kindergarten, 1st, 2nd and 3rd grade… fortunately there aren't cyber-bullies around them yet, but it's something that we talk about openly in our family because I'm a blogger and I see it happening quite a bit online with stories shared.
After learning about the tragic deaths of cyberbullying victims Audrie Pott and Rebecca Sedwick, the creators of High School Story decided to take a stand. Since then, they've introduced a special in-game storyline that has already taught two million High School Story players how to deal with cyberbullies. They've also used the game to raise $200,000 in donations to the anti-cyberbullying charity Cybersmile. The campaign has been featured by the Washington Post, Fox News, The San Francisco Chronicle, Fast Company, and more.
This is all just the beginning for High School Story's creators, who plan to weave other educational and coming-of-age topics into the game.
Giveaway:
They reached out to me with this amazing giveaway because they are trying to spread the word about High School Story. They are celebrating the game's launch for Kindle devices by offering one of my reader's a brand-new Kindle Fire HD tablet that's been pre-loaded with the game.
How to enter:
1. Leave me a comment answering the question — How do you bring up and discuss internet safety with your children? Or how do you plan to as they get older?
2. You can also tweet this giveaway out for an additional entry (make sure you tag me in the tweet with my handle @AudreyMcClellan, so I can register it.)
I will choose a winner next Monday, April 14th!