If you know me, you know I love fashion.
Fashion for me is such a wonderful way to express yourself. It's a fun and fabulous way to create some fashion-magic, too!
My passion has extended to my 5 children… I LOVE dressing them! My 4 older sons are my little fashionistos and my daughter, well… she's my little fashionista! Every single day I take the time to create cool/chic/trendy outfits for them. It's what I love to do.
I"m very excited to say that I have joined forces with Appaman this Spring, along with 2 amazing-cool-and-chic blogging moms at Stroller in the City and Pop Street Kidz, to review some of their Spring 2014 uber-and-totally-cool clothing. We were each given (3) outfits where we style our children and give our honest feedback about the collection.
I'd thought I'd let the lady in the house go first. 🙂
My Victoria.
Victoria is 9 months old. She's the 1st girl after 4 boys, so I LOVE being over-the-top pink with her and really having some fun working in girly touches to all of her outfits. I mean, literally… even if she's in a onesie, she has a big bow on her head. It's these girly touches that I really love and reflect who she is, our girl!
I had some fun finding these adorable 3 pieces in the Appaman Spring Baby Girl Collection because I love how these pieces work beautifully together, but also on their own… they are staple pieces that Victoria can wear all the time. And of course, we needed to accessorize with some adorable sunglasses!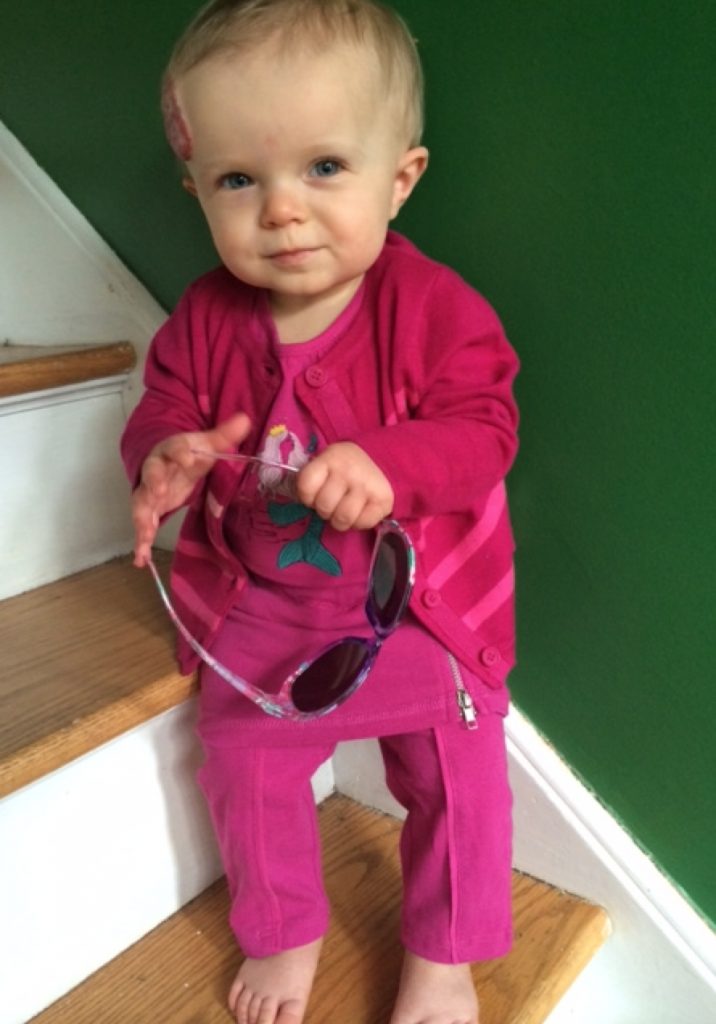 I love the skirt attached to the pants. I think it's just adorable. I love the mermaid graphic on the pink tee. And I am obsessing over the pink cardi. I mean, you can never have enough pink cardis!
Since Victoria only crawls and stands right now, I love how these items are lightweight fabrics and she can easily be mobile in them. She's just my little lady and I love how great and happy she looks!
Get Her Look:
Mermaid Grammercy Tee
Lexie Capri
Boardwalk Cardigan
The Glam Sunglasses
Disclosure: I was sent these clothes for review. 🙂