Disclosure: All opinions are my own! I have been provided compensation as well as a free product from the makers of Fiber Choice® for taking part in the 30-Day Get Picky Challenge with Fiber Choice®.
I've been taking the 30-Day Get Picky Challenge with Fiber Choice® for over three weeks now and it has been going really well! Along with taking these great-tasing Fiber Choice® supplements, I've been doing a better job of taking care of me while still taking care of my family. I've been going to the gym for some spin and Pilates classes – and not feeling guilty about it, like I had been – and I have even carved out time to see some of my favorite girlfriends, which is always good for the soul. My diet has been getting better, too. I've cut down on some of my sugary guilty pleasures (it's tough!) and we have been cooking at home more often, which is good for both the waistline and the wallet.
I know it's important to get the recommended daily allowance of fiber each day to maintain health and well-being. The recommended daily fiber intake is 25 to 30 grams, but according to the American Dietetic Association, most Americans get only about half that amount. Adding Fiber Choice® dietary supplements to my daily routine has been a great way to up my fiber intake. It has also been very easy – I conveniently keep them right next to my coffee machine so I remember to take them each morning.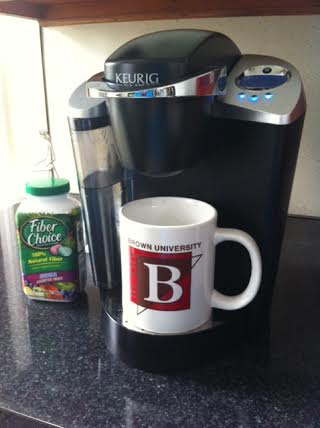 I love that they contain 100% natural prebiotic inulin fiber, the same natural fiber found in fruits and vegetables. So even thought I still eat my fruits and veggies like a good girl, if I happen to miss my daily intake goal, I know my Fiber Choice® supplements have my back.
Even for the healthiest eaters, getting the daily recommended intake of fiber can be challenging. But fiber plays a large role in our overall health, helping to maintain and support our digestive tract by keeping food moving through our system. If you're interested in taking your own 30-Day Get Picky Challenge, here's what you need to know:
Fiber Choice® fiber supplements are available at most mass merchandisers, drug stores and grocery stores throughout the United States and are available online at drugstore.com and amazon.com.
They come in five formulas: Fiber Choice® chewable tablets (these are the ones I'm taking); Fiber Choice®  Fruity Bites; Fiber Choice® Weight Management; Fiber Choice® Plus Calcium and Fiber Choice® Plus Antioxidants. For more information on all of these you can visit www.FiberChoice.com.
Even though I'm nearing the end of my 30-Day Get Picky Challenge with Fiber Choice®, I will definitely continue to take these supplements in order to reap the benefits. Yay, fiber!