My baby girl Victoria is 13 months old.   It's funny, I had forgotten how much your life really does have to change and be altered when you have a baby at home. With my sons being 6, 7, 8 and 9 years old… it had been awhile since our lives were focused on baby again.
We have a pack and play in our living room again.
We have a highchair by the dining room table again.
We have strollers in our cars again.
We have diapers and wet wipes in every room of our house again.
We have baby toys (everywhere) again.
Everything baby, it's back… and I absolutely love it.
With having a baby, I also have to be on safety alert, too. This is something that I haven't had to do in awhile and it's something that is so important and so very crucial.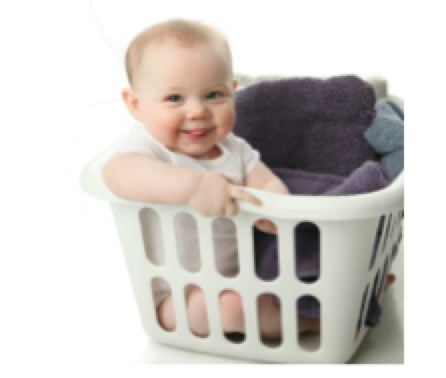 With September being Baby Safety Month, I'm passionate about spreading awareness and happy to have my blog as a place to be able to do this. Baby Safety Month is the perfect time to stop and think whether you're practicing safe laundry habits. Laundry is something that many of us do multiple times throughout our day without even thinking about it because it's just part of our necessary and regular routine. But… and this is a big but, there are a lot of products in our laundry rooms that can and could be harmful if they fall into the hands of little ones. Babies move so quick and they are so curious, everything goes into their mouths. Food, rattles, toys, teethers – you name it. And, even some things they shouldn't – like these laundry packets.
I've partnered with the American Cleaning Institute® (ACI) this year on an important safety campaign to raise awareness and education around one of those products – single-load liquid laundry packets.
I use the liquid laundry packets in my own house. I have been using them for years because they are easy and convenient to use. Since I do have 5 kids, I have been much more aware over the years as to what is readily available for them that is unsafe if not used and stored the right way. Just like any other household cleaning product, these packets are not toys and should not be given to babies to play with. My husband and I created cabinets above our washing machine so we have a safe place to store and stow away all of our laundry products. I don't even want my children to see them.
In observance of Baby Safety Month, the American Cleaning Institute (ACI) is urging parents and caregivers to take the KEY Pledge for laundry safety and re-evaluate their homes, particularly the laundry room, too help ensure that babies are safe.
The KEY Pledge reminds parent of these precautions:
o K – Keep single-load liquid laundry packets out of the reach and sight of children at all times
o E – Educate your family and friends about the safe use and storage of these new laundry products. Safety takes us all!
o Y – You serve a key role in laundry safety
It is so easy to take the pledge, simply visit keypledge.com and follow ACI's simple steps to be the KEY to your family's laundry safety. There are also additional great safety tips and educational videos for you to see, too. This video is my favorite!
Also, as an extra bonus, by taking the Pledge you will be automatically entered into a sweepstakes to win a $2,500 gift card to help makeover your laundry room!
Disclosure: I have partnered with the American Cleaning Institute. All opinions are 100% my own.