My 4 sons LOVE sports. They love to play sports. They love to watch sports. It's as simple as that for them.
While we were visiting Hersheypark, we surprised the boys with a sweet surprise – HOCKEY! But… not just any hockey, Hershey Bears hockey!
The girls heading into the GAME!!
Personally, I love the history behind the Hershey Bears… it's pretty incredible.
The "Hershey Bears" hockey club is the oldest (1938-present) member club of the American Hockey League as well as the oldest continuously operating professional ice hockey team in North America outside of the "Original Six" of the National Hockey League. The Bears, which have served as the primary development club for the NHL's Washington Capitals since the 2005-06 season.
In 1932 Milton S. Hershey established the "Hershey Hockey Club" to manage pro hockey teams based in Hershey which since then has operated four different teams in three pro leagues including the AHL Bears. Now in its ninth decade, it is the seventh-oldest professional ice hockey organization in North America to have continuously iced professional teams in the same city without interruption after only the NHL's "Original Six" clubs in Montreal, Toronto, Boston, New York, Chicago, and Detroit which were all established in or before 1926.
But my guys!?
They just LOVED being there!
Even Victoria got into the GAME!!
And while we were there, the coolest thing happened – COCO came over for a visit and brought the boys some treats!!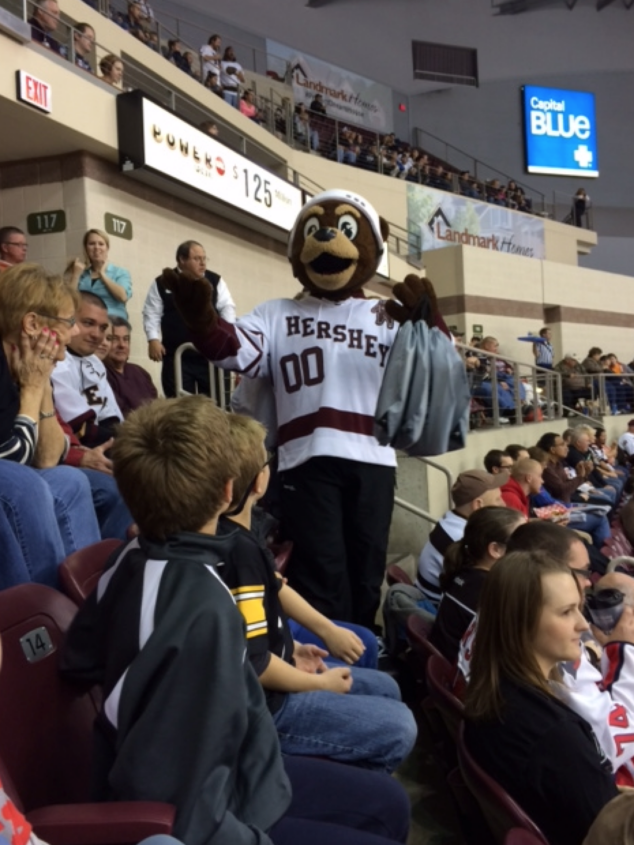 It was AWESOME for the boys to meet him and grab some photos!!
If you're heading to Hersheypark for some fun this winter and spring, I strongly recommend heading to a Hershey Bears Hockey Game!! You will have so much fun with your family. There are games through April, so you have plenty of opportunities to head there. The fan base is incredible, I couldn't get over how many people were there! Also, it's RIGHT NEXT to Hersheypark, so you can enjoy the festivities of the park and the Chocolate World before and after the game, too!
As you can see from the look on the faces of my children, the game was a HUGE HIT!!
I love that Hershey offers so many fun and cool things for a family to do together. What an experience!!
Disclosure: I'm a Sweet Ambassador this year with Hersheypark.